Donald Trump Changes Position Again on Planned Parenthood Funding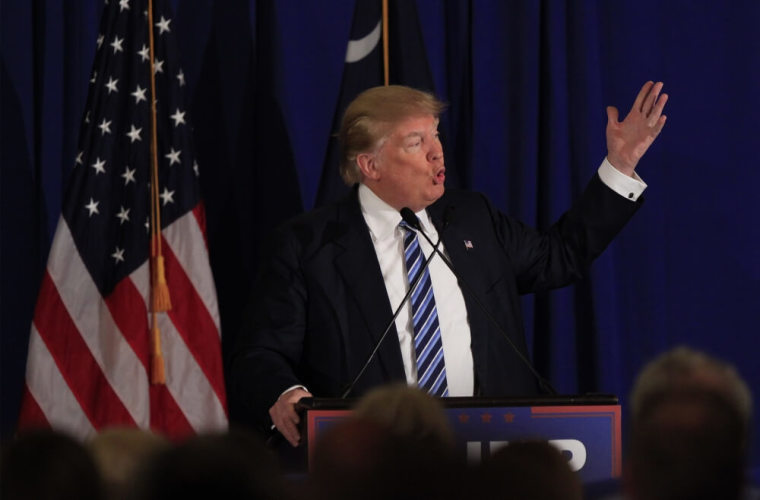 Republican presidential frontrunner Donald Trump said on Thursday that he would defund America's largest abortion provider if given an opportunity as the next president of the United States.
In an interview with David Brody from the Christian Broadcasting Network, Trump, who has been often attacked by the campaign of Texas Sen. Ted Cruz for being "pro-choice," assured conservative voters that he would defund Planned Parenthood if presented with the opportunity.
Trump has been back and forth on the issue of whether Planned Parenthood should be defunded. Last Summer, he first said he supported funding, then changed his position. Then he said he was "unsure" if he would support a government shutdown over Planned Parenthood funding.
Before the Feb. 1 Iowa caucus, 10 female pro-life leaders signed an open letter encouraging voters to support any candidate but Trump due to concerns over his abortion positions.
Trump appeared to change his mind again during last Saturday's presidential debate when Cruz got him to repeat his defense of Planned Parenthood funding.
Trump told Brody, though, that if he was elected president and legislation that strips Planned Parenthood of its over $500 million in annual federal funds was sent to his desk, he would sign it.
"Yes because as long as they do the abortion, I am not for funding Planned Parenthood," Trump asserted.
As he did in last week's debate, Trump again reasoned that Planned Parenthood does other procedures that benefit the health of women that do not relate to killing an unborn child.
But Trump assured that as long as Planned Parenthood still does abortions, they wouldn't be funded under his presidency.
"As long as they are involved with abortion, as far as I'm concerned, forget it," Trump said. "But we have to remember — I wouldn't fund them regardless — but they do other good work. You look at cervical cancer. I have had women tell me they do some excellent work. I think you also have to put that into account. But, I would defund Planned Parenthood because of the fact that they work on abortion."
"There are lot of women that are taken care of by Planned Parenthood, so we have to remember that," Trump added.
In the interview, Trump was asked if he feels that the Supreme Court's decision strike down state abortion bans in the 1973 case of Roe v. Wade was "wrongly decided."
"I do. It was very strongly decided but it can be changed," Trump said. "Things are put there and are passed but they can be unpassed with time. It's going to take time because you have a lot of judges to go."
As the Cruz campaign has attacked Trump over his past remarks claiming to be "pro-choice," Cruz has also warned that if Trump is elected as the next president, he would likely nominate liberals to the Supreme Court.
However, Trump told Brody that he would nominate "constitutionalists" to the court.
"I would appoint people that are very, very good constitutionalists that are going to do a good job," Trump said.
Earlier this week, Trump threatened to sue Cruz for airing an attack ad that featured Donald Trump in a 1999 interview explaining that he is "pro-choice" and opposed to partial-birth abortion bans.
"So Donald, I would encourage you if you want to file a lawsuit challenging this ad, claiming it is defamation, file the lawsuit," Cruz said in response to Trump's cease and desist letter. "It is a remarkable contention that an ad that plays video of Donald Trump speaking on national television is somehow defamation."