Donald Trump's Childhood Bible Featured in Museum of the Bible Exhibit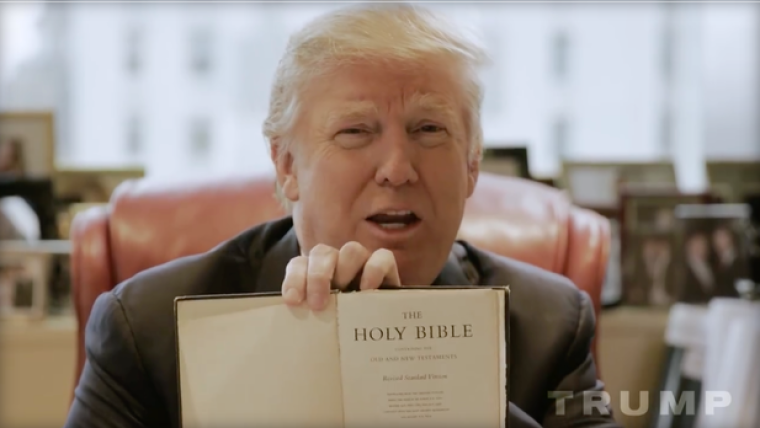 The childhood Bible that was one of two President Donald Trump placed his hand on during his swearing-in ceremony in January 2017 will now be displayed at the Museum of the Bible in Washington, D.C.
The museum, which opened to the public in November and has hundreds of biblical artifacts and Bibles owned by historic, religious and political leaders, announced Wednesday the addition of Trump's childhood Bible.
The Bible is a Revised Standard Version that Trump's mother, Mary Anne, gave to him while he was growing up.
According to a press release issued by the museum, Trump carried that Bible with him to Sunday school classes at First Presbyterian Church in Queens, New York. When Trump graduated from primary school in 1955, the Bible was inscribed by his Sunday school teachers and pastor.
Trump's Bible will be added to the museum's collection of presidential Bibles in the "Bible in the World" exhibit. The exhibit is housed on the second floor of the 430,000-square-foot building.
"We are honored to add this piece of our nation's history to our growing exhibit of presidential Bibles," Museum of the Bible President Cary Summers said in a statement. "President Trump's inauguration Bible will be displayed alongside Bibles belonging to President Harry Truman, President Dwight Eisenhower, President George H.W. Bush and President George W. Bush."
Summers added that the museum hopes visitors will not only learn about the presidents' Bibles but the "the influence this book has had on government and elected officials around the world."
Prior to his inauguration, Trump showed off the Bible in a campaign video from 2016 aimed at thanking evangelicals for their support.
"My mother gave me this Bible — this very Bible — many years ago," Trump explained. "In fact, it's her writing right here (on the inside cover). She wrote my name and my address and it's just very special to me. I want to thank the evangelicals. I will never let you down."
The other Bible that Trump swore on during his inauguration was the same Bible that President Abraham Lincoln used during his oath of office on March 4, 1861.
In its display, the museum has Eisenhower's Bible opened to Psalm 33:12, the verse he placed his hand on when taking his oath of office in 1953 and 1957.
The museum also features the "Air Force One Bible" on loan from President George H.W. Bush and his wife, Barbara. That Bible was given to the couple by the Air Force One crew as they exited the plane on Bush's last day in office.
Additionally, the museum features the "Bush Family Bible," which was used by both President George H.W. Bush and President George W. Bush during their oaths of office in 1989, 2001, and 2005.