Donald Trump: IRS May Be Auditing Me Because I'm a 'Strong Christian'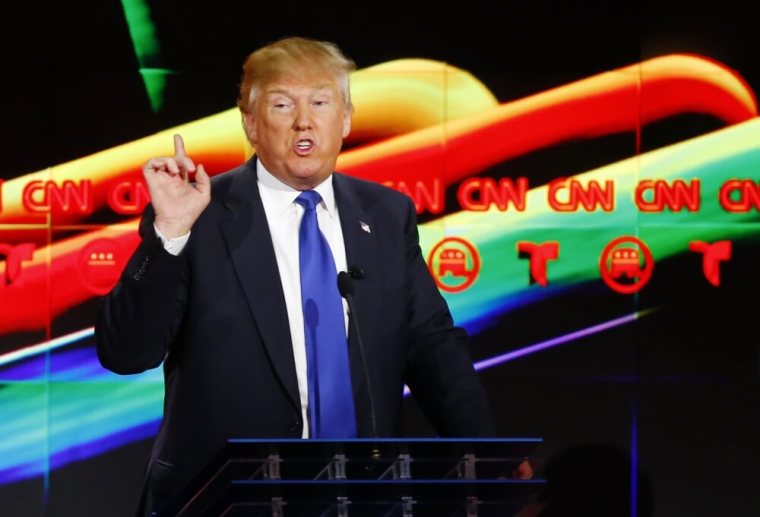 After Republican presidential frontrunner Donald Trump's tax returns and IRS audit were a major topic during Thursday night's presidential debate, the billionaire real estate mogul said after the debate that the IRS may be targeting him because he is a "strong Christian."
Trump's tax returns became a major news story this week after 2012 Republican presidential nominee Mitt Romney called for Trump to release his tax returns and suggested that they may contain a "bombshell."
During the CNN debate in Houston, Trump explained that he was not going to release his tax returns because he is currently under audit by the IRS and added that he has been audited by the agency for the last 10 to 12 years.
Texas Sen. Ted Cruz weighed in on the subject saying that an IRS audit would "underscore the need to release those returns." If the audit is going to find something that is "fraudulent," Cruz asserted that "the voters need to know."
In his post-debate interview with CNN's Chris Cuomo, Trump was asked to go in depth about his tax returns, the audits and Romney's comments.
"The one problem I have is I'm always audited by the IRS, which I think is very unfair," Trump said. "It may be because of religion, it may be because of something else, it may be because I am doing this, although this is just recently."
Cuomo followed up by asking Trump what he meant when he said it may be because of his "religion."
"Well, maybe because of the fact that I am a strong Christian and I feel strongly about it and maybe there is a bias," Trump added.
Cuomo followed up again asking Trump, "You think maybe you are getting audited because you are a strong Christian?"
Trump responded by pointing out that many religious and conservative groups have been claiming for the last few years that they are being targeted by the IRS. However, it should be noted that most complaints from religious groups about the IRS have come during the presidency of Barack Obama, which began in 2009, not when Trump claims the audits began.
Cuomo then insisted the Trump could easily release the returns that are not currently under audit. Trump replied by claiming that his previous tax returns are connected to the ones currently being audited.
"I can't do that. We have to put it together in a very unified way. They all relate to each other," Trump argued. "I don't know if you saw the picture I have where I have almost a thousand pages. The ones from previous, relate to the ones later and it doesn't make sense unless they are all released at one time."
Cuomo then said that if the focus was on another candidate's tax returns, Trump would say, "What are you talking about, they are tax returns just put it out."
"Nobody that is under a regular audit, it is just a regular audit — I think for 10 years, 12 years I get audited — nobody would ever put out their returns that's under an audit," Trump said. "It's very unfair that I am audited all the time. And by the way, I always pass the audit."
Cuomo then asked Trump to clarify why an audit is preventing him from releasing the tax returns so that the viewers can understand. Trump then implied that his lawyers are not allowing him to release the returns.
"You don't put it out. You are in the midst of negotiating and talking to the IRS. You never put it out. You would never do that," Trump reasoned. "Your lawyers would never allow you to do that. It's a very simple audit and I think perhaps it will go fast and perhaps it won't and when it's complete, you got them. I love it. Until it is done, I think certainly you wouldn't do that."
In a tweet last night during the debate, Romney argued that the only real reason Trump has for not releasing his tax returns during an audit is because he is "scared."
"No legit reason @realDonaldTrump can't release returns while being audited, but if scared," Romney wrote. "release earlier returns no longer under audit."
In an interview on the Today Show Friday morning, Rubio argued that Trump is not releasing his taxes because he is not as rich as he leads everybody to believe.
"But I think the reason why Donald won't release his taxes is because he hasn't made nearly as much money as he claims he does," Rubio said. "This is a guy that has taken Trump Airlines bankrupt, Trump Vodka — nobody wanted it — Trump Mortgage was a disaster, Trump University was a fraud. I mean, he is not as rich as he claims to be — everybody in finance knows that and his taxes would expose that."
Rubio was also asked to comment on Trump's claim that he is being targeted by the IRS because he is a "strong Christian."
"This is unreal. Again, this guy is a con-artist. He is always making things up and no one holds him accountable for it," Rubio said. "You have a guy that is being sued right now for fraud for Trump University. ... Here is a guy who is being sued for defrauding people. Here is a guy who had to pay a judgement for hiring Polish workers illegally to build Trump Towers."
"He is being treated with kid gloves by many in the media in the hopes that he is a nominee. Some of them are biased," Rubio added. "They would love to see a liberal like Donald Trump take over the Republican Party because they know he is easy to beat once he gets there. He'll have to release his taxes and Hillary Clinton will take him apart."