Donald Trump Confirms Wife Melania, Son Barron Will Not Immediately Join Him in White House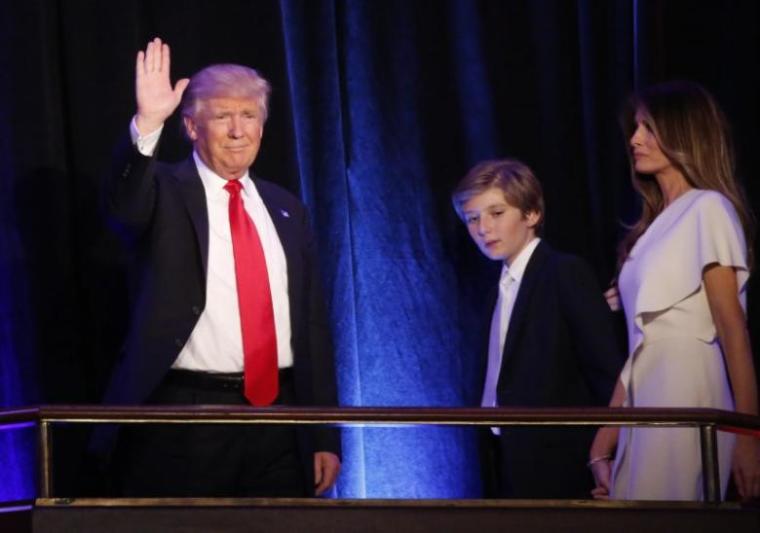 Melania Trump, wife of President-elect Donald Trump and the couple's 10-year-old son Barron, will not be joining the New York City billionaire in the White House after his inauguration next January.
Transition spokesman Jason Miller confirmed a New York Post report Sunday that the incoming first family will live in New York. At least for a few months, they will endure a long distance arrangement because Melania is concerned about pulling her son out of his Upper West Side private school in the middle of the school year where he is in the fourth grade.
"There's obviously a sensitivity to pulling out a 10-year-old in the middle of the school year," Miller said in a McClatchy DC report Sunday. He further explained that a more formal announcement on the decision will come at a later date.
Trump, 70, also told reporters Sunday that he would be moving to the White House and that Barron and his 46-year-old wife will join him: "Very soon. After he's finished with school."
An unidentified source told the New York Post that Melania Trump wants to minimize the impact of her husband's election on their 10-year-old son.
"Melania is extremely close to Barron, and they have become closer during the campaign," a source close to Trump's transition team told the New York Post. "The campaign has been difficult for Barron, and she is really hoping to keep disruption to a minimum."
After the inauguration, the incoming first lady will travel to the White House as needed, but her primary focus is on Barron another source told the publication.
"Melania is very supportive of her husband and is fully on board of doing everything that's needed as first lady," the source said.
Another source said Melania Trump "is really devoted to Barron" and is frequently seen picking him up from his prep school, where annual tuition is more than $40,000.
In an interview with People, the president-elect said having too much help in raising kids can be problematic and as a couple they tried to keep it at a minimum.
"We keep it down to a minimum," said Trump, who has staff to help with cooking and housework, but no nanny in the traditional sense according to People. "If you have too much help, you don't get to know your children."
"I've always prided myself on being a good father," he said.
Melania Trump said she helps her son with his homework and takes him to after-school sports herself.
"He needs somebody as a parent there, so I am with him all the time. As you know my husband is traveling all the time," she said.
While she spends a lot of time with her son, Melania Trump also noted that she also encourages her husband to spend time with Barron.
"Barron loves to be one-on-one with Dad because normally he's almost always all the time with me," she said. "So I give them space when it's Daddy and Barron time. They go alone for dinner, one-on-one. They play golf together. He looks forward to that."