Donald Trump 'Moved The Needle' With Evangelicals But Questions Remain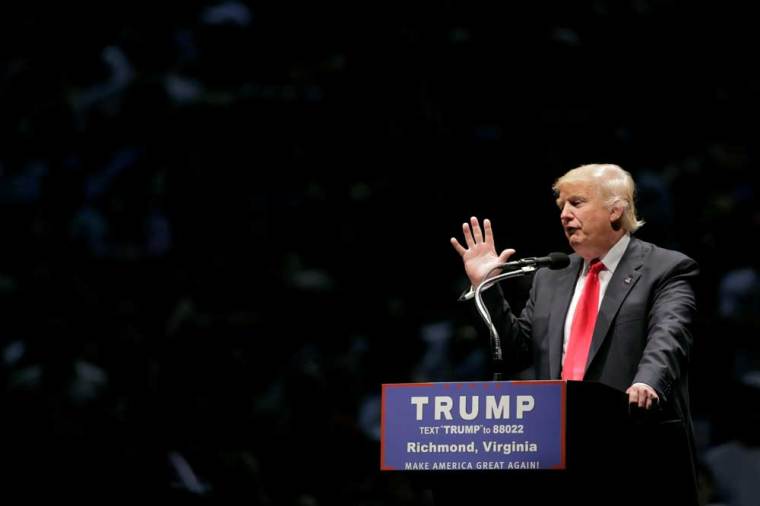 When Trump was asked by First Liberty Institute's Kelly Shackleford during the large-group meeting about the rights of wedding vendors and others to refuse servicing gay weddings, Trump said that it was ultimately the courts that were going to decide cases of that nature.
Trump insinuated that he would appoint justices and judges that would uphold religious freedom rights by saying that "if it's my judges, you know how they're going to decide. And if it's her judges, you also know how they're going to decide."
American Family Association President Tim Wildmon feels that Trump didn't answer the religious freedom questions clearly enough for his liking.
"Trump's weakness is that he did not clearly state his views in answer to the questions asked by Perkins and Shackelford about when religious freedom and the LGBT movement come into conflict, other than to say that these matters will be decided by the courts," Wildmon wrote in an op-ed. "He repeatedly said he was for religious freedom and his fallback position was that he would appoint judges who would defend religious freedom."
However, Wildmon came away from the meeting feeling that Trump is "coachable" because he is willing to sit down and listen to the concerns of "great men of God" in order to understand Christians better.
In an effort to prioritize the concerns of conservative Christians, Trump created an evangelical executive advisory board that includes 25 prominent evangelical leaders. A number of the members of that board have not issued their endorsement of Trump, such as Ronnie Floyd, Richard Land and Harry Jackson.
Former Southern Baptist Convention President Jack Graham, who is also on the advisory board, told The Christian Post on Tuesday that he feels he is ready to "champion Trump."
In an op-ed for Fox News titled "Of Course, Evangelicals Can Vote For Trump," Graham wrote that although he is not endorsing any candidates, he has reached a point where he can now vote for Trump.
"After spending much of my morning yesterday with Mr. Trump in a small meeting in his office and in a larger meeting attended by 1,000 of the nation's most influential Christian leaders, I would vote for Donald Trump because he has convinced me he will fight for the issues that matter most to conservatives," Graham wrote. "And one thing is certain with Mr. Trump – for better or worse, he's not afraid of a fight."
"Actually, it's not that difficult," Graham continued. "Donald Trump says he will support those issues that conservative evangelicals care about. Hillary Clinton promises she won't."
James Merritt, another former Southern Baptist Convention president, maintains a more negative view of Trump.
"Does character matter? Does the life of the unborn matter? If u answer yes and mean it then you have a real problem with the POTUS election," Merritt tweeted on Thursday.