Donald Trump Signals He'll Nominate Pro-Life Justices but Nothing Else on Abortion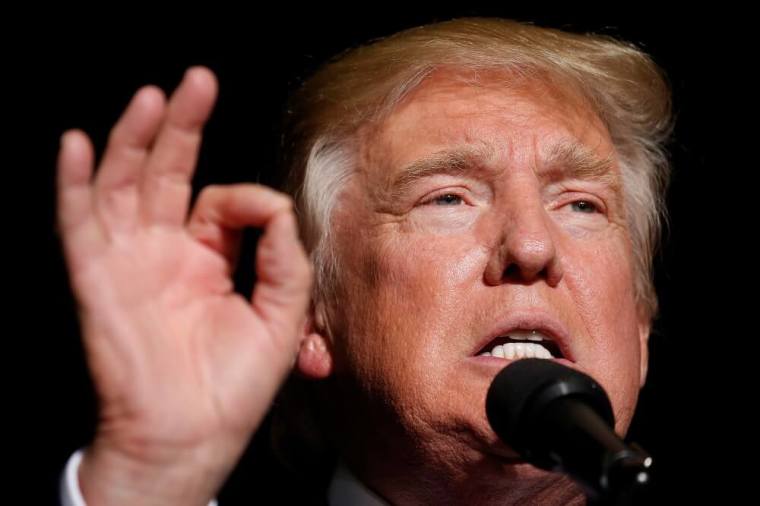 President-elect Donald Trump reaffirmed his commitment to nominating pro-life justices to the Supreme Court but suggested an unwillingness to go further to ban abortion nationwide. 
Asked specifically in a "60 Minutes" interview on CBS Sunday if he wants the Supreme Court to repeal the Roe v. Wade decision that legalized abortion nationwide, Trump said that at most the decision would mean women would have to travel to pro-abortion states to get an abortion. 
"Here's what's going to happen," Trump told Leslie Stahl of the news magazine program. "I'm going to — I'm pro-life. The judges will be pro-life."
He continued: "Having to do with abortion — if it ever were overturned, it would go back to the states."
When asked if women would be unable to receive abortions if their home states ban them, Trump said: "Yeah, well, they'll perhaps have to go, they'll have to go to another state."
"We'll see what happens," he added. "It's got a long way to go, just so you understand. That has a long, long way to go."
A Supreme Court appointment is expected to be one of the first decisions Trump will face in his presidency. A seat once occupied by Justice Antonin Scalia has remained vacant since his death in February, even though President Obama nominated Merrick Garland to fill it.
Gretchen Borchelt, vice president for reproductive rights and health at the National Women's Law Center, believes Vice President-elect Mike Pence is the driving force behind Trump's pro-life stance.
"He's absolutely the one pushing this," she told The Telegraph. "He was a leader in Congress to defund Planned Parenthood, and has enacted some incredibly restrictive legislation in Indiana.
"This has always been a priority for him — and now he has more power."
As a form of protest, abortion supporters have been making donations to Planned Parenthood in Pence's name and the organization itself has pledged to resist any effort to restrict access to abortion.
"Extreme lawmakers think Trump's election gives them a mandate to roll back rights for women, LGBTQ folks, religious minorities, people with disabilities and people of color. They're starting to move on discriminatory legislation before Trump has even taken office," Planned Parenthood said in a statement.
"We need to send a message — loud and clear — right now. We're stronger than they are — more powerful, more committed — and we won't back down. The resistance starts now," it added.
Borchelt agreed. She told The Telegraph that while Trump could indeed oversee the repeal of Roe v. Wade if another Supreme Court judge retires and is replaced with a pro-life advocate, the resistance to such a move would be fierce.
"Seven out of ten Americans think that abortion should be legal, so if Mississippi or Louisiana or Texas tries to ban abortion entirely, there would be a huge outcry," she said.
"People would be shocked and appalled and terrified. And we are going to fight against that. It would be a throwback to a dangerous era," she added.
Lila Rose, president and founder of the national pro-life organization Live Action, sees the election outcome as a rejection of Democratic presidential nominee Hillary Clinton's extreme pro-abortion positions.
"Planned Parenthood has been defeated at the ballot box. Despite the millions Planned Parenthood and its allies spent to elect a pro-abortion president and Congress, voters roundly rejected the abortion agenda of Hillary Clinton and the abortion industry that backed her campaign. When the abortion lobby pushed for unregulated abortions through all nine months of pregnancy and wanted to force taxpayers to pay for them, the American people pushed back," she said in a statement after Trump's historic win.
"Because of the pro-life pledges Donald Trump made during the campaign, there is now a clear path to end the public funding that enables the dismemberment, poisoning, or starving to death of one million innocent children each year. It's critical that we unite to hold Mr. Trump to those pledges to defund Planned Parenthood, to appoint pro-life Supreme Court justices, and to ensure that taxpayers are never forced to fund abortions," she continued.
Rose further added: "Public opinion on abortion is transforming as more and more Americans recognize life inside the womb and refuse to accept the idea that women's rights are incompatible with children's rights. Increasingly, Americans are pro-life and demand better for both women and preborn children than the violence that our laws condone."