Trump-Supporting Pastor Mark Burns Says Bernie Sanders 'Needs to Be Saved, Needs Jesus'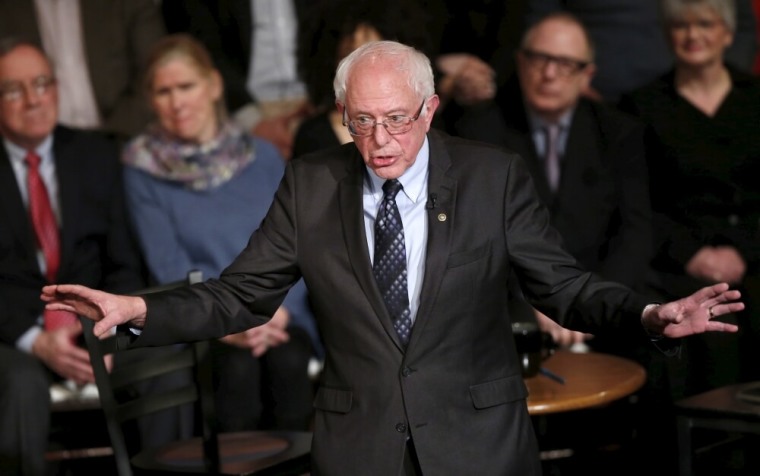 At a campaign rally for Donald Trump in North Carolina Monday, televangelist Mark Burns said Democratic candidate Bernie Sanders does not believe in God, and he needs to be saved and to "meet Jesus."
"Bernie Sander who doesn't believe in God, how in the world we gonna let Bernie — I mean really?" said Burns, founder and president of the NOW Network.
"Bernie got to get saved, he has to meet Jesus, he got to have a come to Jesus meeting," he added.
When previously asked about his religious views, Sanders, who is Jewish, has responded by saying that he believes in God in his own way, even though he does not belong to a particular religion.
"I think everyone believes in God in their own ways," the 74-year-old junior senator from Vermont said. "To me, it means that all of us are connected, all of life is connected, and that we are all tied together."
Sanders has also insisted that faith is a guiding principle in his life, stating at a New Hampshire town hall meeting in February: "To me, I would not be here tonight, I would not be running for president of the United States if I did not have very strong religious and spiritual feelings."
The self-described Democratic socialist, who is running against Hillary Clinton, added: "My spirituality is that we are all in this together and that when children go hungry, when veterans sleep out on the street, it impacts me."
Burns, who is also the senior pastor at The Harvest Praise & Worship Center in South Carolina, has spoken out in support of Trump on a number of occasions, and in December defended the Republican frontrunner's controversial suggestion to temporarily ban Muslims coming to America amid security concerns following the terror attacks in California and France.
"I want to protect my church in Easley, South Carolina. I want to protect my wife. Every father watching wants to make sure their families are protected and that is all Mr. Trump is doing," Burns said at the time.
"And remember again, as I am stating, it is just a temporary solution," he added.
In a later interview with CNN on Monday, Burns insisted that he does not believe that Sanders is a "religious-minded individual," regardless of what the Vermont senator has said.
"Obviously, if he was ever elected president he would be the first non-Christian, and that's not an issue that he is not a Christian, so to speak, so this is not anything bad about the Jewish people," the pastor asserted.
He then suggested that Sanders should "talk more about the importance of faith. Talk about the importance of religious liberties. Obviously, he's Jewish, he could talk about his Jewish heritage."