Donald Trump Says He Will Defeat ISIS by Bombing the 'Hell Out of Them' and Taking Their Oil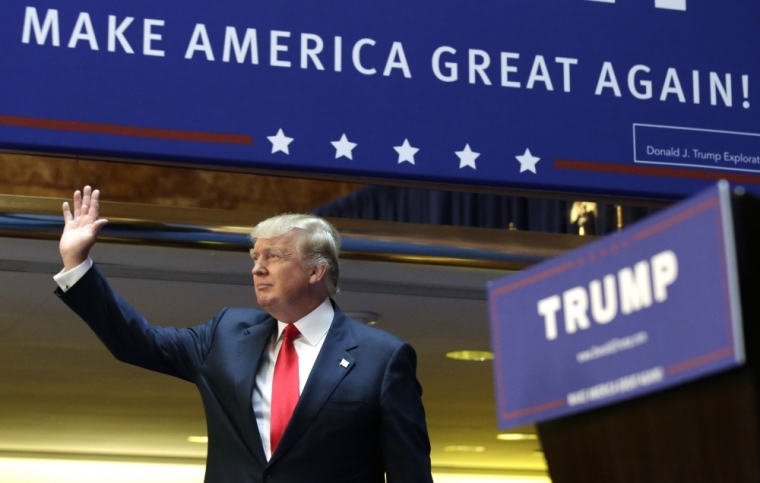 GOP presidential candidate Donald Trump has claimed that he'll defeat Islamic State terrorists if elected president of the United States by bombing "the hell out of them" and taking their oil, which would cut down their wealth.
"I say that you can defeat ISIS by taking their wealth," Trump told Fox News host Bill O'Reilly. "Take back the oil. Once you go over and take back that oil, they have nothing. You bomb the hell out of them, and then you encircle it, and then you go in. And you let Mobil go in, and you let our great oil companies go in. Once you take that oil, they have nothing left."
When asked about whether he would send ground troops into Syria to fight ISIS, Trump said he would not reveal such plans yet. The billionaire suggested, however, that an effective general is needed to implement the strategy against the Islamic militants.
"I would hit them so hard. I would find you a proper general; I would find the Patton or MacArthur. I would hit them so hard your head would spin," he said.
President Barack Obama's strategy in Iraq and Syria so far has been to hit terror targets via airstrikes, but without sending additional ground troops into the region.
Although last week Obama ordered 450 U.S. troops be deployed to Iraq, adding to the 3,050 forces already stationed in the country, he has said that they're there only to train Sunni militias and provide other types of support, rather than engage ISIS in battle.
"To improve the capabilities and effectiveness of partners on the ground, the president authorized the deployment of up to 450 additional U.S. military personnel to train, advise and assist Iraqi Security Forces," the White House explained in a statement.
A broad coalition of international allies has been aiding the U.S. in its airstrike operations in Iraq and Syria, which has seen limited success. While ISIS has been driven out of some occupied cities, it has continued capturing new ones, such as the fall of Ramadi back in May.
Sen. John McCain, R-Ariz., who is chairman of the Senate Armed Services Committee, has been a leading voice calling for the U.S. government to increase its effectiveness when combating ISIS.
McCain has called Obama's strategy in Iraq and Syria "one of the most disgraceful episodes in American history."
"This is a failure of a policy, which I think is not enough of anything," he added, arguing that there should be more U.S. military personnel in the region.
Trump announced on Tuesday that he's adding his name to the growing pool of 2016 Republican presidential candidates, promising that he "will be the greatest jobs president God ever created."
Trump has criticized not only Obama's foreign policy agenda, but the administration's stance on issues such as healthcare, immigration, trade and nuclear weapons as well.
"If I get elected president I will bring it back bigger, better and stronger," the billionaire said.