Donald Trump Losing Female Voters With Attack on Appearance of Ted Cruz's Wife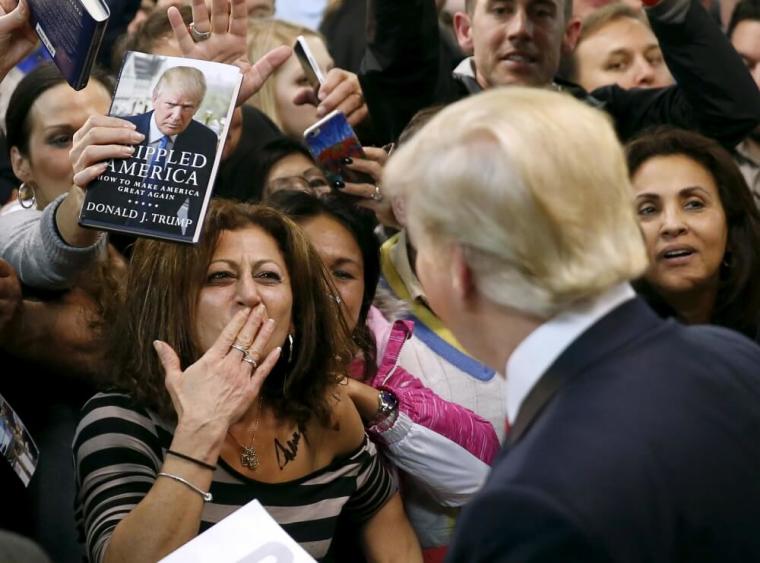 While the majority of registered female voters have had an unfavorable view of Donald Trump, the Republican frontrunner could now further lose his women supporters to his rival Ted Cruz after his attack on Heidi Cruz's appearance.
"I don't make a habit out of supporting people who attack my wife and attack my family," said Cruz, who was in Wisconsin Friday, about supporting the billionaire businessman if he's the Republican nominee, according to Chicago Tribune.
Cruz said this in response to the use of an unflattering photo of his wife, an executive at Goldman Sachs in New York, by Trump, who juxtaposed it with a glamour shot of Melania Trump on Twitter with the caption: "No need to 'Spill the Beans.' The images are worth a thousand words."
Trump was alluding to a National Enquirer story that accused Cruz of having had five mistresses. Cruz said Trump was behind the story, but Trump denied having any role.
The National Enquirer story came after the Make America Awesome Again super PAC, which is against Trump, republished a naked photo of Melania posing 16 years ago for the British edition of GQ magazine. Trump saw that as an attack by Cruz supporters, although Cruz denied the allegation.
Responding to Trump's attack on his wife, Cruz tweeted, "Donald, real men don't attack women. You wife is lovely, and Heidi is the love of my life."
Repeated attacks on women could cost Trump votes.
"Suburban women have been a critical swing group in the past, and there's a lot about Donald Trump that is offensive to them," Geoff Garin, a Democratic pollster who served as a chief strategist to Clinton in 2008, told The New York Times.
A CNN poll released Thursday found that 73 percent of registered female voters in the country had an unfavorable view of the GOP frontrunner. "That gives him a huge number of voters he has to make up from somewhere," American University political science professor Karen O'Connor was quoted as saying. "And I don't know where they will come from."
A CBS News/New York Times poll in October found that 57 percent of registered women voters had an unfavorable view of Trump, which has now increased to 63 percent, according to CBS News, which also noted that in a head-to-head match-up with Hillary Clinton, Trump trails 50 to 40 percent because of women, who give Clinton a whopping 20 point advantage over Trump – 55 to 35 percent.
About the story in National Enquirer, Cruz said, "It became clear as the campaign went on that Donald was a whole lot of sizzle without any substance. When he's scared, when he's losing, his first and natural resort is to go to sleaze and to go to slime."
Cruz pointed out that Roger Stone is a longtime political adviser to Trump. "It is a story that quoted one source on the record: Roger Stone, Donald Trump's chief political adviser. It is attacking my family. And what is striking is Donald's henchman, Roger Stone, had for months been foreshadowing that this attack was coming. It's not surprising that Donald's tweet occurs the day before the attack comes out. And I would note that Mr. Stone is a man who has 50 years of dirty tricks behind him. He's a man for whom a term was coined for copulating with a rodent. Well, let me be clear: Donald Trump may be a rat, but I have no desire to copulate with him."
Denying his role, Trump released a statement, in which he said, "I did not know about it, and have not, as yet, read it. I have nothing to do with the National Enquirer and unlike Lyin' Ted Cruz I do not surround myself with political hacks and henchman and then pretend total innocence," Trump said in a statement. "Ted Cruz's problem with the National Enquirer is his and his alone, and while they were right about O.J. Simpson, John Edwards, and many others, I certainly hope they are not right about Lyin' Ted Cruz. I look forward to spending the week in Wisconsin, winning the Republican nomination and ultimately the Presidency in order to Make America Great Again."
Meanwhile, radio show host Glenn Beck said Trump is incompatible with Christians who take their faith seriously.
"No Christian, no real Christian — I don't mean a judgmental Christian, I mean somebody who is living their faith — no real Christian says, 'I want that guy, that guy is for me,'" he said during a broadcast of his radio show, according to The Hill. "Nobody. Nobody… We have got to be a people of principles. We are a Christian nation. Are we really? Then why are we in so much trouble? Why do we have the same kind of problems that non-Christian nations do with pornography and drugs and everything else? We should be setting an example if we're actually living our Christian faith. The problem is we all say we're living our Christian faith. We're not living our Christian faith."