Donald Trump Victory Speech: 'Win Is for Americans of All Races, Religions, Beliefs' (Video, Transcript)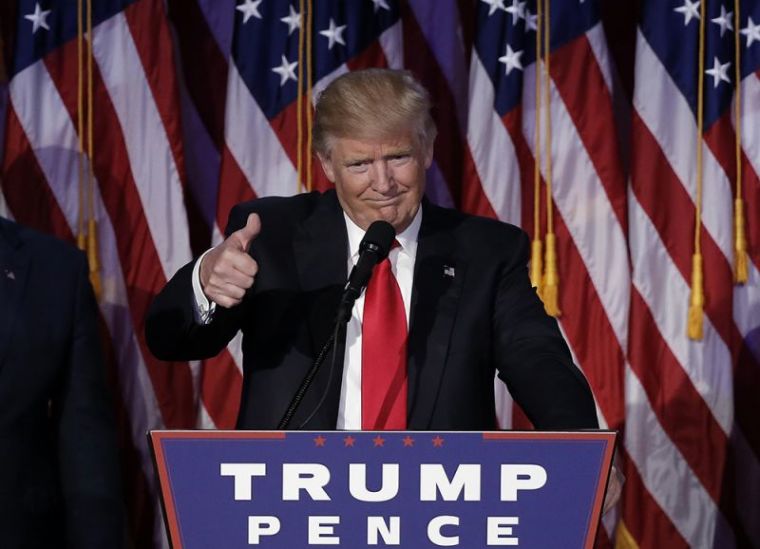 President-elect Donald Trump delivered his victory speech in New York City after defeating Democratic rival Hillary Clinton in the race to the White House on Tuesday, and vowed as leader to represent all Americans, of all races, backgrounds, and religions.
The Republican began his speech by telling his supporters at the Hilton Hotel in Manhattan that Clinton had called him to concede the election, and despite the heavily turbulent contest, offered some kind words for his defeated opponent.
"I congratulated her and her family on a very, very hard-fought campaign," Trump said.
"I mean, she fought very hard. Hillary has worked very long and very hard over a long period of time, and we owe her a major debt of gratitude for her service to our country. I mean that very sincerely."
Trump focused much of his speech on healing what he called the "wounds of division" in America, and said that Republicans, Democrats, and independents need to come together as one.
"As I've said from the beginning, ours was not a campaign but rather an incredible and great movement, made up of millions of hard-working men and women who love their country and want a better, brighter future for themselves and for their family," the President-elect said.
"It is a movement comprised of Americans from all races, religions, backgrounds, and beliefs, who want and expect our government to serve the people, and serve the people it will," he added.
The New York Times reported by early Wednesday morning that Trump had won 279 electoral votes, and although several states were not yet at 100 percent reporting, he crossed over the 270 votes-line needed to secure the presidency.
Trump's upset victory was credited to winning a number of key battleground states, including Florida, Ohio, Wisconsin, and Pennsylvania.
The Republican talked about rebuilding the country's infrastructure in his victory speech, as well as taking good care of U.S. veterans, who he called "incredible people."
"We will embark upon a project of national growth and renewal. I will harness the creative talents of our people, and we will call upon the best and brightest to leverage their tremendous talent for the benefit of all," Trump continued.
"We have a great economic plan. We will double our growth and have the strongest economy anywhere in the world. At the same time, we will get along with all other nations willing to get along with us," he said, arguing that no dream is "too big," and that no challenge is "too great."
"America will no longer settle for anything less than the best. We must reclaim our country's destiny and dream big and bold and daring. We have to do that. We're going to dream of things for our country, and beautiful things and successful things once again," Trump pledged.
Trump went on to thank the various people who supported his campaign, including his family, and concluded:
"And I can only say that while the campaign is over, our work on this movement is now really just beginning. We're going to get to work immediately for the American people, and we're going to be doing a job that hopefully you will be so proud of your president."
The full video and transcript of Trump's victory speech can be found here.