DOVE AWARDS 2013: Mandisa Talks Body Image, Temptation, 'Overcomer' Album
Gospel singer Mandisa opened up about using her faith to overcome body image issues following her recent Dove Awards win.
The "Overcomer" singer, 37, won the "UPLIFT someone" award at the 44th Dove Awards in Nashville, TN., on Tuesday and she spoke exclusively with The Christian Post shortly thereafter. The Christian singer, full name Mandisa Lynn Hundley, rose to stardom in 2006 after finishing in ninth place during "American Idol" season 5.
"[It's] amazing!" Mandisa told The Christian Post regarding her Dove Awards win. "Honestly there are so many awards given but that one in particular means the most to me because it's simply saying that what I'm doing is uplifting and encouraging people and that's really want I want to do so it meant a lot."
Mandisa was previously criticized about her weight by outspoken "Idol" judge, Simon Cowell, which drew overwhelming public support for the singer. She has remained vocal about her weight loss journey ever since and she explained the role in which faith has played in helping her stay motivated about living a healthy lifestyle.
"Once I realized I didn't have to depend on my own strength and willpower alone [and] that I could really rely on resurrection power, that changed everything," Mandisa said.
"And then once I made the motivation not just about looking a certain way or a number on a scale but really made it about honoring God with my body, that motivation in itself is tapping into what matters is what made the journey not easy but a little bit easier and easier to stay focused on what's important," she explained.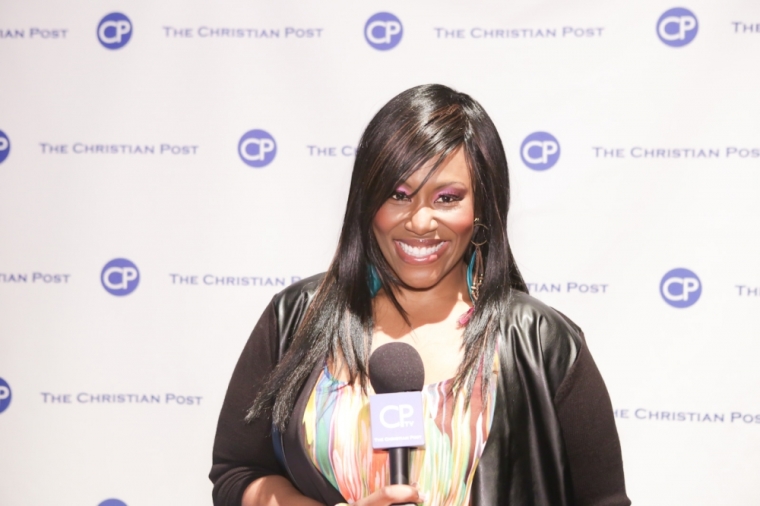 The three-time Grammy nominated singer released her fourth studio album "Overcomer" in recent months which peaked at number 1 on the Billboard Christian album charts. She opened up about why she believes so many people connect with her music.
"I think a lot of it is because they know some of what I've been through. When I tell people that they're an overcomer I think they can believe it because they know part of what I've been overcoming with weight and I've been very vocal about my friend Kisha who is battling breast cancer right now," she said.
"[Kisha's] really one of the inspirations behind the song ['Overcomer'] so I think because I'm so public and very active on social media people know a bit of my story," she continued. "I think maybe they believe me a little bit more because they know I'm not just telling them, I'm actually believing it myself."
Mandisa also spoke about temptation in the music business and how the bible helps her stay focused on her faith as opposed to the "glitz and glamor."
"I think the biggest challenge if you look at the roots of Satan Lucifer, he was a worship leader... he was created to worship God," she said.
"So I think the biggest challenge and one that I'm always very aware of is falling into pride, its why I have to stay very focused on why I'm doing what I'm doing, who i'm doing it for and not getting caught up in all of the glitz and the glamor... really stay focused on why I'm doing what I'm doing," she explained.
The 44th Dove Awards airs Monday, October 21 at 8PM EDT on the UP network.
Top Dove Award Winners
Artist of the Year: TobyMac
Song of the Year: "10,000 Reasons (Bless the Lord)," Matt Redman, (writers) Matt Redman, Jonas Myrin
Songwriter of the Year: Matt Redman
Rap/Hip Hop Album: Gravity, Lecrae, (producers) Heat Academy, Joseph Prielozmy, J.R., The Watchmen, Dru Castro, Uford Ebong, Tyshane, Thainnacircle, DJ Kahalil, Zach Crowell, Dirty Rice, DJ Official and Rudy Currance
Pop Contemporary Album: Eye On It, TobyMac, (producers) David Garcia, Toby Mckeehan, Christopher Stevens, Jamie Moore, Telemitry
Praise & Worship Album: Burning Lights, Chris Tomlin (producers) Jason Ingram, Ed Cash and Dan Muckala
Contemporary Christian Performance of the Year: "10,000 Reasons (Bless the Lord)," Matt Redman
Southern Gospel Performance of the Year: "What The Blood Is For," Jason Crabb
Gospel Performance of the Year: "Break Every Chain," Tasha Cobbs
New Artist of the Year: for King & Country
Producer of the Year: Ed Cash
For more information on the Dove Awards CLICK HERE