Dr. Phil: 'Everybody in America' Should Be Watching Bishop TD Jakes' Talk Show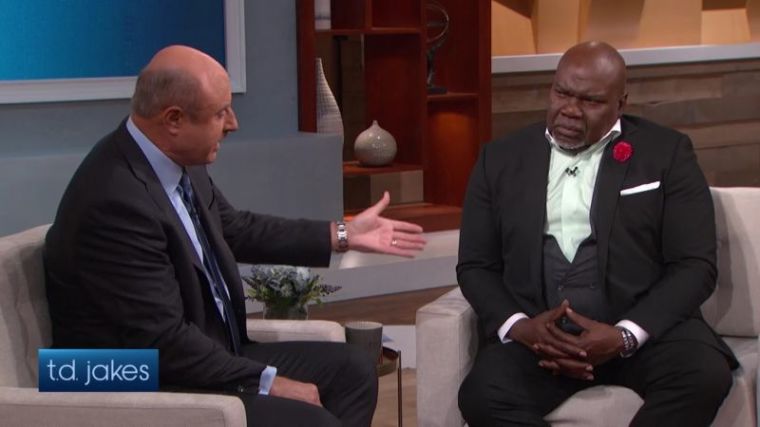 Psychologist and TV personality Dr. Phil McGraw says he's recommending Bishop T.D. Jakes' daytime talk show to "everybody in America" because it's not simply an "hour of preaching," but meets people where they are.
McGraw, who will soon be celebrating the 15th anniversary of his own series, "Dr. Phil," was a guest on Jakes' show on Monday to give his backing to The Potter's House Church pastor's program, which premiered nationwide in September.
"There's a lot of noise out there, there's a lot of clutter out there, there's a lot of people expressing opinions out there. But think about the millions of lives that can be touched by an hour a day with the 'T.D. Jakes' show," McGraw said.
He added that people have a difficult time these days searching through various psychologists, doctors and counselors, but noted that there is a good reason for why viewers can trust Jakes.
"They do know your history, they don't have to speculate about you, they measure you on the last 40 years of your life, what you have done, what lives you have touched," McGraw told Jakes.
The "T.D. Jakes" show, which airs on the OWN Network, touches on topics important to people's lives, such as marriage, family, parenting, and challenges at the workplace and home.
"I endorse and recommend it to everybody in America," McGraw said about the pastor's show, noting that there is a big difference between quantity and quality.
For his part, Jakes said he recognizes that many people cannot afford a therapist even if they knew of a good one, and that is why he wants to provide a program that can inspire them.
"I want to add my version, my flavor to it on daytime television," Jakes said.
McGraw said that what he likes about the show is that it's "not an hour of preaching every day," adding that Jakes meets people where they are — speaking to people in the spiritual realm when need to, but always looking to find a system that they can relate to.
Other prominent celebrities, such as singer Mariah Carey, have also endorsed Jakes' show. Carey took to Instagram back in September to let the pastor know that she "will be watching," and wished him all the best.
"Everyone could use a little T.D.J. in their TV day!" she wrote in another message on Facebook at the time.