Duck Dynasty's Phil Robertson on Finding Jesus After Bar Brawl, Abandoning Family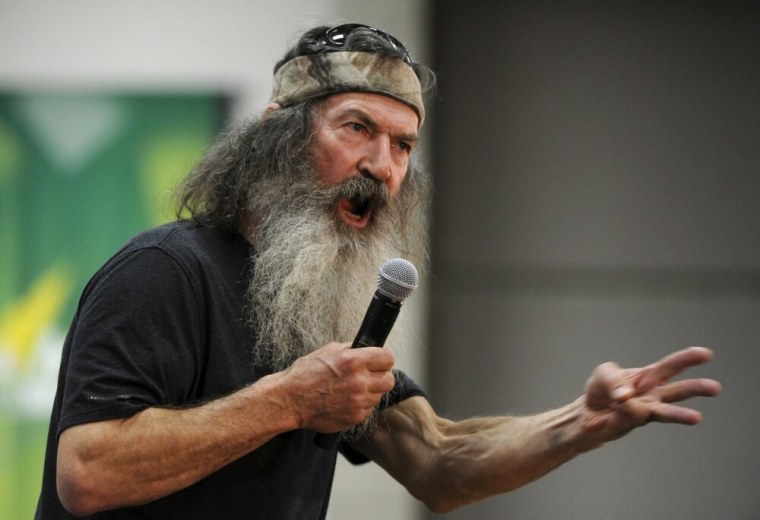 "Duck Dynasty" reality TV stars Phil and Kay Robertson, the patriarch and matriarch of the down-to-earth, fun-loving family who has won America's hearts, recently opened up to share the touching story of how Phil reluctantly came to Christ.
In a video for I Am Second, the husband and wife talked about their early, turbulent years as a teen couple trying to find their way as Phil eventually got on the straight and narrow after a run-in with the law.
During his college years Phil Robertson was a self-described "bone to be chewed." His wife, Marsha (Miss Kay), said the young couple came from very humble beginnings.
"Phil started school and we were so poor," said Miss Kay. "So in love, but so poor … So we were basically two kids with a kid."
Phil began to drink and eventually his habit worsened, said Miss Kay. He had even begun to abuse pills. "It was scary to me. It was just all new to me, the whole thing."
When a Bible-toting stranger walked into Phil's bar one day, the visitor was unceremoniously showed the door. "He wanted to introduce me to Jesus," said Phil. "I ran him away."
After being involved in an unrelated bar brawl, Phil "hid out" in the woods from authorities, abandoning Miss Kay and their sons for months — an experience that brought him to rock bottom.
"You're all alone. No hope. Miserable. That's when I began to serious[ly] contemplate: 'Is there a way out of all this?'" Desperately searching for answers, at Miss Kay's suggestion, Phil met with the man he had once kicked out of the bar for trying to evangelize.
When the man asked Phil about his understanding of the Gospel of Jesus, Phil was at a total loss. "I didn't even know what the Gospel of Jesus was," he admitted. After the man explained, Phil wondered, "How in the world did I ever miss that? I had missed it. I was blown away when I heard that Jesus died for me, was buried and raised from the dead. Something so … simple, but profound ... I had never heard it."
Miss Kay came home to find a note that said Phil had gone to church. She said, "We headed in there [church], and when we got into the auditorium I just stopped because there he was up in the baptistry with a man ... I heard Phil say, 'I want to make Jesus the Lord of my life. I want to follow Him from this day forward' ... The next thing I knew he was baptized ... It was a complete family then."
Over the years, Phil and Miss Kay raised their four sons, Alan, Jase, Willie and Jep, using a mix of love, biblical principles and discipline. Phil previously told The Christian Post " ... They were raised up around biblical instruction. That mixed with discipline — the discipline code, I call it," he said. "They just had a lifestyle of seeing their parents do good things. I think maybe me loving their mother and me loving my neighbors around me had a profound impact on them. And what came out of that was four sons who are all married to their original wives. And they're acting godly and I think Miss Kay and I had a hand in that."
The recent fame that the family has enjoyed as a result of their hit reality show "Duck Dynasty" isn't something that they put much stock into, according to Phil. "Fame is rather fleeting, as you know, or should know," Robertson told CP. "Money can come and go, and fame comes and goes. Peace of mind and a relationship with God is far more important, so this is the precedent that we've set in our lives."
The Robertson family owns and operates Louisiana-based Duck Commander — a manufacturer of duck calls and duck-hunting merchandise, which Phil Robertson founded in the early 1970s.