'Duck Dynasty' Star Sadie Robertson Befriends Duggar Family, Sparks Rumors of '19 Kids and Counting' Crossover
'Duck Dynasty' Star Sadie Robertson Befriends Duggar Family, Sparks Rumors of '19 Kids and Counting' Crossover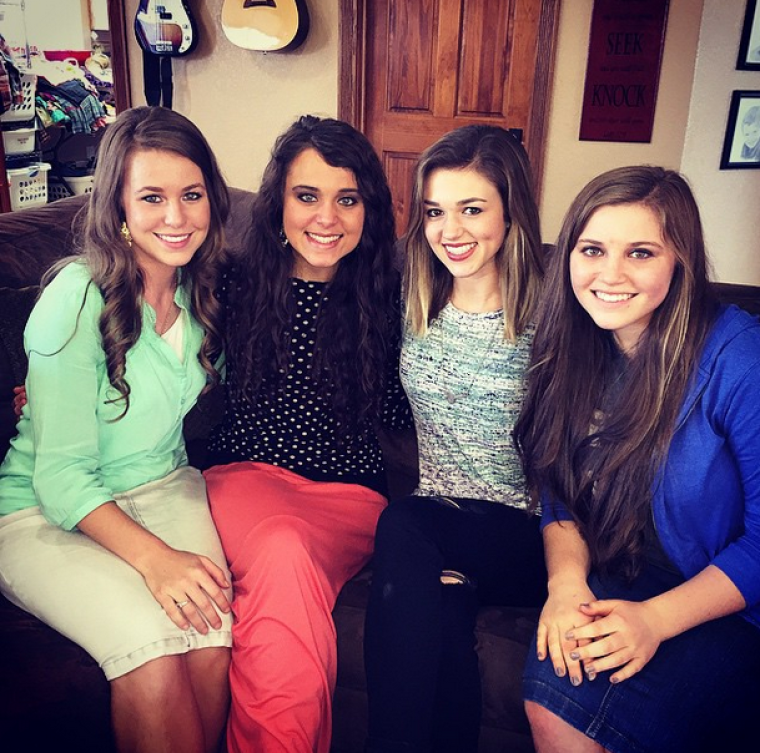 "Duck Dynasty's" Sadie Robertson recently befriended fellow reality television stars Jana, Joy Anna and Jinger Duggar, and dropped hints of a crossover between "Duck Dynasty" and the Duggar family's reality series, "19 Kids and Counting."
"Duck Dynasty," which airs on A&E, follows the Robertson family and their business, Duck Commander, in West Monroe, Louisiana. Alternately, TLC's "19 Kids and Counting" follows the Duggar family of 19 children in Tontitown, Arkansas. Both the Robertson and Duggar familiesare well known for their Christian faith, which is predominantly featured on their respective reality television series. Late last month, Sadie Robertson shared a photo from her first encounter with the Duggar family, marking an exciting meeting within the reality television realm.
"Truly the most beautiful girls inside & out," 21-year-old Robertson shared in a caption of a photo on Instagram taken with 25-year-old Jana, 21-year-old Jinger, and 17-year-old Joy Anna.
"Excited about our new friendship," Robertson added. "Thank you for being so sweet to welcome me into y'all's beautiful home. So proud of how this family shares their faith with the world."
The photo of Robertson with the Duggar girls spurred gossip of a possible crossover episode between "Duck Dynasty" and "19 Kids and Counting," which both appeal to devout Christian audiences. Moreover, a blend between the two shows would boost the ratings for both A&E and TLC by bridging fans of both families.
While the Robertson family and the Duggar clan share similarities in their strong faith, the two families are very different. For instance, Sadie Robertson appeared on "Dancing with the Stars" last year, but Duggar patriarch Jim Bob once told Beliefnet that girls should never dance because it "can be defrauding to a guy."
Furthermore, the Duggar children practice Christian courting before marriage with strict limitations between men and women. In comparison, Sadie Robertson has been outspoken about practicing abstinence, but the teen and her longtime boyfriend are often seen in intimate embraces and even kissing in photos.
Meanwhile, season eight of "Duck Dynasty" is expected on A&E later this year while "19 Kids and Counting" airs on TLC Tuesdays at 9 p.m. ET.