Duck Dynasty Tops Yahoo's 2013 'Obsession' Ranking
Duck Dynasty Tops Yahoo's 2013 'Obsession' Ranking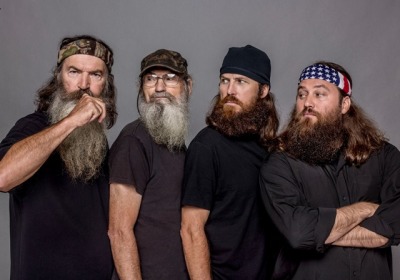 How crazy did Americans become about the Robertson family this year? If Yahoo search data is any evidence – very.
According to Yahoo, Americans' top obsession this year was reality television show "Duck Dynasty." The A&E series beat out "Breaking Bad," "The Walking Dead/zombie apocalypse," "Twerking" and "Snapchat," in a category that adds the volume of searches with the speed that the term rose in popularity.
Females dominated Yahoo's most-searched terms of the year. Miley Cyrus headed a list that also included fellow celebrities Kim Kardashian, Kate Upton, Selena Gomez and Amanda Bynes. Justin Bieber was the list's lone male and was ranked tenth.
The search engine's most popular news stories were the Jodi Arias trial, a case about a woman accused of cheating on and murdering her husband, followed by Obamacare and the Boston Marathon bombing.
The full lists follow below.
Top Obsessions on Yahoo 2013
1. Duck Dynasty
2. Breaking Bad
3. The Walking Dead/zombie apocalypse
4. Fifty Shades of Grey casting
5. The new 100 dollar bill
6. Twerking
7. Snapchat
8. Rainbow loom
9. Slefie
10. Bitstrips
Top-Searched News Stories on Yahoo 2013
1. Jodi Arias trial
2. Obamamcare (affordable care act)
3. Boston Marathon bombing
4. Royal baby birth
5. George Zimmerman trial
6. Syria civil war
7. North Korea missile threats
8. Papal transition
9. Paula Deen lawsuit
10. Aaron Hernandez shooting
Top Searches Overall on Yahoo 2013
1. Miley Cyrus
2. Kim Kardashian
3. Kate Upton
4. Minecraft
5. Selena Gomez
6. Obamacare (affordable care act)
7. Amanda Bynes
8. Jodi Arias
9. Iphone 5
10. Justin Bieber
Top Why Questions on Yahoo 2013
1. "who wins the bachelor"
2. "what is twerking"
3. "when is thanksgiving"
4. "why only 6 jurors in zimmerman trial"
5. "how to take a screenshot"