Duck Dynasty's Alan Robertson Says the Men in His Family Could Be Mistaken for Al Qaeda Terrorists
Duck Dynasty's Alan Robertson Says the Men in His Family Could Be Mistaken for Al Qaeda Terrorists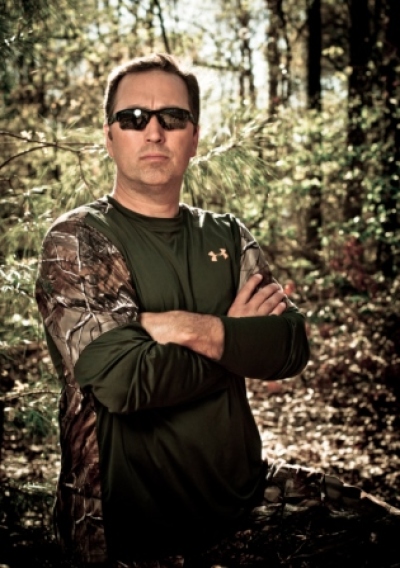 Alan Robertson, the self-described "beardless brother" of the Robertson family, discussed their affinity for facial hair and joked that his brothers could be mistaken for Al Qaeda terrorists during a speech at the American Farm Bureau Federation's 95th annual convention in San Antonio on Monday.
Robertson, who stepped out from behind the scenes to join A&E's hit reality television show "Duck Dynasty" as a cast member during its fourth season, said that despite his attempts to blend in, his brothers still tease him about not fitting in.
"My brothers give me a hard time when I grow a beard and say I look like Yasser Arafat," Robertson told the audience full of farmers.
"Now, I just gotta tell you, I'm highly offended about that, because have these two looked in the mirror lately?" Robertson quipped before flipping to a picture of his father, Phil, and younger brother, Jase, alongside a photo of Osama Bin Laden, reported My San Antonio. "You tell me, who looks more like a terrorist? I just gotta tell you we've gone through many airports through the years and they're the ones that get the wand treatment, not me, just so you know."
The pastor also said that while "Duck Dynasty" has been compared to many television shows during its run including "The Andy Griffith Show" and the "Waltons," the series he felt best captures his family's dynamics is the 1960s show "The Munsters."
"Do you remember 'The Munsters'? It's a great ole' show," said Robertson. "Now you remember the setup of 'The Munsters.' It was a family of monsters. They were lovable monsters but they were monsters. And then there was one cousin that was there that didn't quite fit into the rest."
Robertson pointed to himself as the "one cousin."
"Now [Marilyn Munster] had a bit of an identity complex. She was totally normal and living in an abnormal group. I gotta tell you--I totally relate to Marilyn Munster. You see, in my own mind, I'm normal, but I live with these abnormal people," he said.
Robertson also tried to explain the various personalities in his family by using labrador retrievers as a metaphor, selecting the animals because they are "vital to everything we do every day. Not only do they make great pets but they go and get our ducks for us."
He proceeded to refer his father and Jase as the black labs or "go-getter" of the labs.
"Sixty days in a duck season in Louisiana and they don't miss a day," said Robertson.
Robertson compared himself and his brother, Jep, to the yellow lab because they "were a little more domesticated."
"Still a great hunting dog, still will go get all your ducks, but they'll hang around the house and make a good family dog as well. They'll go watch your kids," said Robertson.
Duck Commander CEO Willie Robertson, according to his older brother, could best be described as a chocolate lab.
"This may surprise you, because you watch the show and assume Willie's got it all together, he's the CEO. Willie is pretty sharp, but when it comes to hunting, he has to have his assistant drive him out to us," said Robertson.
The fifth season of popular "Duck Dynasty" premieres on Wednesday on A&E.