'Duck Dynasty's Phil Robertson Relates Atheism to Extreme Violence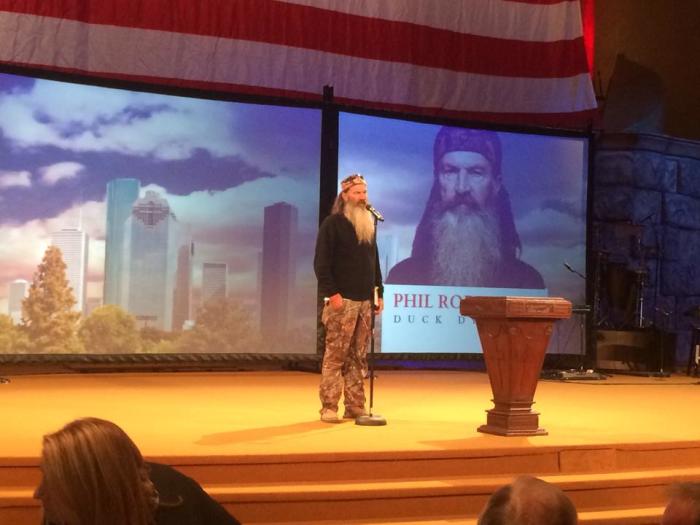 "Duck Dynasty" patriarch Phil Robertson gave an impassioned speech at the Vero Beach Prayer Breakfast on Friday equating non-salvation and disbelief with violence.
"Two guys break into an atheist's home. He has a little atheist wife and two little atheist daughters," Robertson said. "Two guys break into his home and tie him up in a chair and gag him. And then they take his two daughters in front of him and rape both of them and then shoot 'em and they take his wife and then decapitate her head off in front of him. And then they look at him and say, 'Isn't it great that I don't have to worry about being judged? Isn't it great that there's nothing wrong with this? There's no right or wrong, now is it dude!"
Robertson wanted to drive home the point that disbelief can lead to unspeakable violence because there's no fear of judgment in the afterlife.
He continued: "Then you take a sharp knife and take his manhood and hold it in front of him and say, 'Wouldn't it be something if there was something wrong with this? But you're the one who says there is no God, there's no right, there's no wrong, so we're just having fun. 'We're sick in the head; have a nice day.'"
"If it happened to them, they would probably say, 'Something about this just ain't right.'"
Robertson is known for speaking his mind when it comes to religious views and his Christian testimony. Doing so nearly cost him the reality show he and his family star on; Robertson previously made comments about homosexuality that resulted in a great deal of backlash and executives at A&E temporarily suspended Robertson from the series but after fans spoke out in support of Robertson, they changed their minds and brought him back. "Duck Dynasty" has been on the air for seven seasons.
The Vero Beach Prayer Breakfast brought together a group of believers who wanted to gather and seek God's guidance in their own lives and those of fellow Americans.