Dwyane Wade Prom: Miami Heat Star Surprises Teen After Turning Her Down (VIDEO, PHOTO)
Video: Heat star Dwyane Wade Surprises Coral Gables Teen At Prom
Dwyane Wade showed up at a prom Friday night and surprised one lucky – and persistent – fan who has asked him multiple times to be her date since last Fall.
The Miami Heat superstar pulled up to the Archbishop Coleman Carroll High School senior prom at the LaJolla Ballroom in Coral Gables, Fla., decked out in a sleek black suit, white shirt, no tie, and striking red loafers ensemble. Wade had not responded to 17-year-old Nicole Muxo's Twitter invite to be her date at the prom, so she was not expecting him to show up, especially since he was busy with the NBA playoff season. But just before he entered the ballroom, Wade gave her a call and wished her a good night, The Miami Herald reported.
And then he made his grand entrance and surprised Muxo and all her classmates.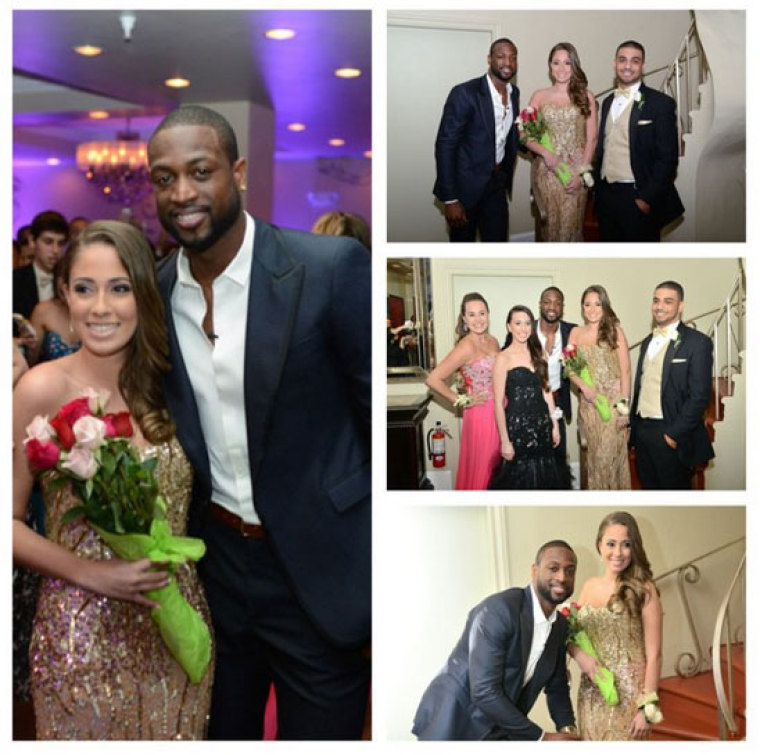 "I was so surprised. I didn't expect it at all," Muxo told reporters, who were notified earlier that Wade would be attending the prom.
"I'm gonna remember it forever. This was the highlight of my senior year," said the diehard Wade fan, who described Wade as "my favorite player and I think he's a positive role model."
This is not the first time she's tried to get Wade as a date to a school event. Last Fall she showed up at a book signing event and asked him to be her Homecoming date. She exchanged Twitter handle with him and he responded that he was too busy with the new season. Muxo appeared at another book signing event the very next day, wearing a T-shirt that read, "A Father First" and "A Homecoming Date Second."
Dwyane Wade Prom Proposal
In her latest attempt, Muxo began courting Wade to be her prom date a month ago when she made a YouTube video.
"My senior prom is coming up and I have everything set for a perfect night except for one thing. A perfect date," Muxo said in the video while wearing Wade's jersey.
Besides the YouTube video, Muxo also sent a direct message to Wade on Twitter on Thursday giving him the address of where the prom would be just in case he was free.
Since Wade's team finished the playoff elimination games against the Chicago Bulls early, he had Friday night free, and thought, why not go to a prom.
"She continued to keep going for it – no matter how many times I said I am going to be busy," Wade told reporters about why he decided to make her wish come true.
He also said that when Muxo directly sent him the prom's address, he thought to himself, "I won't be doing nothing tomorrow night and I can go and make this a memorable moment for her."
Wade was able to do a little dancing with Muxo, who had brought along another date, and then the basketball star joked that he had to go home and ice his knee and that he felt like a third wheel.
Afterwards, Wade posted a photo of Muxo and him on Twitter and wrote, "I had a blast at Prom. Never be 2 scared to ask."