Egypt's Coptic Leader Cancels Pence Meeting Over Trump's Recognition of Jerusalem as Israel's Capital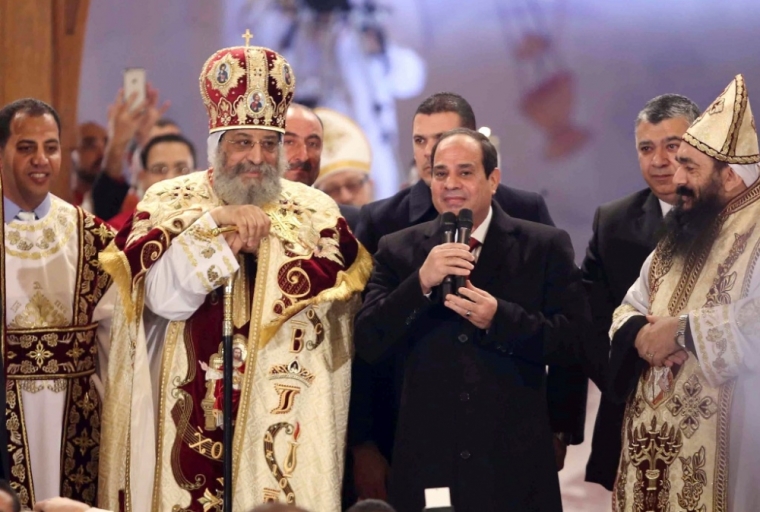 Egypt's Coptic Church said Saturday its leader, Pope Tawadros II, will not meet U.S. Vice President Mike Pence during the latter's visit to Cairo this month, citing President Donald Trump's decision to recognize Jerusalem as the capital of Israel. 
The Coptic Church said in a statement that it has "excused itself from hosting Mike Pence" due to Washington's move "at an unsuitable time and without consideration for the feelings of millions of people," according to Times of Israel.
"The Egyptian Coptic Orthodox Church declines to receive American Vice President Mike Pence," it said, adding it would pray for "wisdom and to address all issues that impact peace for the people of the Middle East."
The Trump administration has voiced concerns over the ongoing persecution of Coptic Christians in Egypt at the hands of Islamist terrorists and others.
On Friday, Egypt's top Muslim cleric Ahmed al-Tayeb, the head of Al-Azhar Islamic seminary, also declared he will not meet Pence.
The office of Palestinian Authority President Mahmoud Abbas has also said he will not meet with Pence when he visits the West Bank this month "because the U.S. has crossed red lines" on Jerusalem.
Trump announced Wednesday that the U.S. will be beginning a process to move its embassy in Israel from Tel Aviv to Jerusalem, and officially recognize the city as Israel's capital. "While previous presidents have made this a major campaign promise, they failed to deliver. Today, I am delivering," he said.
Trump's administration had explained Tuesday that the move is not intended to come on the side of Israel when it comes to territory disputes with Palestine, with the White House stating that it simply reflects the "fundamental truth" of Jerusalem's status.
"The president believes this is a recognition of reality," a White House official told reporters, according to Reuters. "We're going forward on the basis of a truth that is undeniable. It's just a fact."
Palestinian militant group Hamas had called on the people of Palestine "to declare 'rage day' on Friday against Israel, denying the U.S. plan to move its embassy," a statement from the group said.
The status of Jerusalem has been up for dispute for centuries, with the Romans, Crusaders, Ottomans and the British Empire among the factions fighting historical battles for control over the city.
Jerusalem contains numerous sacred sites claimed by Christians, Jews, and Muslims, and is where Jesus Christ preached, died, and was later resurrected.
British rule over the area ended in 1948, which led to Jordan's invasion and occupation of the Old City, before Israel captured the land in the 1967 Middle East war. In 1980 Israel declared Jerusalem to be a "complete and united" city and capital of its country, to the protest of Arab countries in the region.
Palestinians, on the other hand, see East Jerusalem as their capital. They live in the city as Israeli residents, receive access to services and vote in municipal elections. Some become Israeli citizens and can vote in parliamentary elections, but most refuse to do so.
Turkish President Recep Tayyip Erdogan has said that the U.S. move could ignite a "fire" in the Middle East, leading to a "great disaster."
Former Southern Baptist minister and former Arkansas governor Mike Huckabee, a strong supporter of Israel, told Fox News that America is "finally doing something that we should've done a long time ago ... and that is to recognize that Jerusalem has been the capital of only one people over the past 4,000 years."