Election 2018 Polls: Slight Gains for Trump, GOP
House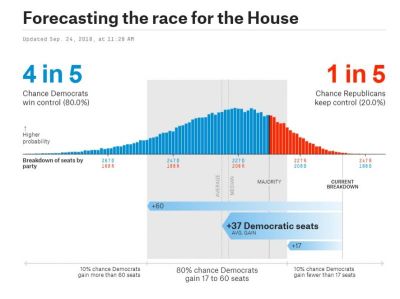 FiveThirtyEight has predicted a strong likelihood that the Democrats will take control of the House of Representatives for the first time since 2010.
In data updated on Monday, the site gave the Democrats an 80 percent chance of regaining control of the lower house, versus a 20 percent chance that the Republicans will maintain their majority.
However, these numbers do represent a slight decline for the Democrats from last week, when they were given an 82.4 percent chance of taking control of the House.
Further, Republicans now have a slightly higher likelihood of maintaining control of the House compared to last week, when FiveThirtyEight gave them a 17.6 percent chance.
In their "Battle for the House 2018" map, accessed Monday, Real Clear Politics gave the Democrats 206 seats as either secured, likely, or leaning; by contrast, they gave Republicans 189 seats as secured, likely, or leaning. Forty seats were listed as "toss-ups."
This represented only a single change from last week, where Republicans had 190 going their way and 39 of the seats were labeled toss-ups.