Election 2018 Polls: Will Republicans Lose the Senate?
House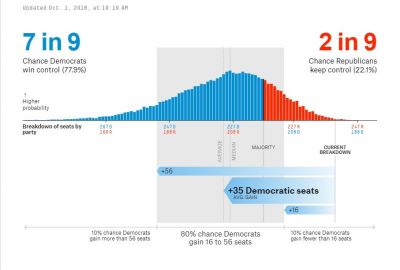 FiveThirtyEight has predicted a strong likelihood that the Democrats will take control of the House of Representatives for the first time since 2010.
In data updated on Monday, the site gave the Democrats a 78 percent chance of regaining control of the lower house, versus a 22 percent chance that the Republicans will maintain their majority.
While a strong predication in favor of the DNC takeover, it does represent a decline of about 4 percent compared to two weeks ago, when the site gave Democrats an 82.4 percent chance.
In their "Battle for the House 2018" map, accessed Monday, Real Clear Politics gave the Democrats 206 seats, the Republicans 189 seats, and 40 seats in the "toss-ups" category.
Of the Democrats' 206 seats, RCP labeled 173 secured, 14 as "Likely Dem," and 19 as "Leans Dem." Of the Republicans' 189 seats, RCP labeled 161 secured, 13 as "Likely GOP," and 15 as "Leans GOP."