Election 2018 Polls: Will There Be a 'Blue Wave'?
Senate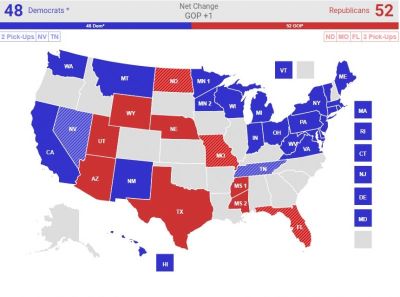 Despite the talk of many pundits about a "Blue Wave" hitting Congress, FiveThirtyEight has predicted that the Republicans will maintain control of the Senate.
In a report accessed Monday, FiveThirtyEight gave the GOP a 66.1 percent chance of keeping control of the upper house; Democrats only received a 33.9 percent chance of taking control.
One factor the forecasting website noted was that 42 Republican seats were not up for election in 2018 versus only 23 Democratic seats not up for election in 2018.
Of the 35 contested seats, FiveThirtyEight identified 18 of them as "Solid D," 5 as "Likely D," and 2 as "Lean D." By contrast only 4 of the contested seats were labeled "Solid R," 1 labeled "Likely R," and 2 labeled "Lean R." 3 seats were labeled toss-ups.
In their "Senate No Toss Ups 2018" map, accessed Monday, RealClearPolitics predicted that the Republicans would have 52 seats and the Democrats would have 48, again forecasting a GOP Senate majority.