'Emeritus Pope' Introduced: New Title Announced for Benedict XVI
Pope Benedict XVI has received a new title, "pope emeritus," following his renunciation announcement earlier this month.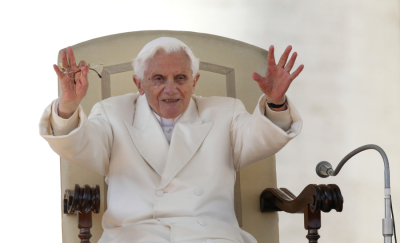 The Vatican's announcement on Tuesday clarified that once the pontiff steps down on Thursday, his full title will be "His Holiness Benedict XVI, Roman pontiff emeritus."
Furthermore, Benedict will be known as "Your Holiness" and will continue to wear the white cassock associated with his papacy. The 85-year-old is the first pope to voluntarily step down in more than 700 years.
Benedict, born Joseph Ratzinger, served as head of the Roman Catholic Church since 2005. In a statement released on Feb. 11, the pope cited "advanced age" as the reason for his resignation.
"After having repeatedly examined my conscience before God, I have come to the certainty that my strengths, due to an advanced age, are no longer suited to an adequate exercise of the Petrine ministry," said Benedict.
"Dear Brothers, I thank you most sincerely for all the love and work with which you have supported me in my ministry and I ask pardon for all my defects," he continued. "And now, let us entrust the Holy Church to the care of Our Supreme Pastor, Our Lord Jesus Christ, and implore his holy Mother Mary, so that she may assist the Cardinal Fathers with her maternal solicitude, in electing a new Supreme Pontiff."
Meanwhile, the only other pope to resign voluntarily was Celestine V in 1294, reported NPR. Also, some reports indicate that Gregory XII also stepped down as a means of helping end the Great Schism when multiple clerics claimed the position, but other reports claim he was deposed.
Regardless, it is believed that Celestine laid down the groundwork that Benedict is following in resigning from papacy.
When he steps down on Thursday, in addition to receiving the new title, the pontiff will no longer wear his trademark red shoes- replacing them with handmade brown leather shoes from Mexico.
Also part of a custom at the end of a papacy, the pope's "fisherman's ring," which contains the formal seal, will be destroyed, according to The National Catholic Reporter.
Following his retirement, Benedict is expected to stay temporarily at Castel Gandolfo outside the Vatican until renovations to a three-story nunnery are completed. Once finished, Benedict will reside in the former nunnery inside the Vatican walls, just a few hundred yards from where his successor will reside in the Vatican Palace.