End Times Infographic Dissects Christian Views on Tribulation, Rapture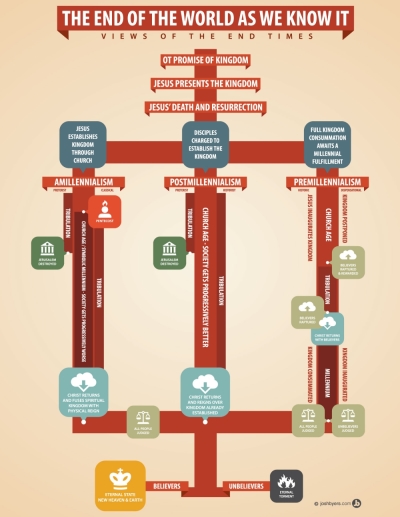 A graphic designer and evangelical Christian pastor who has been working his way through all 66 books of the Bible to create theological illustrations of each one, recently shared a new infographic summarizing three common end-time views held by Christians.
Josh Byers, who has published nine Bible-themed infographics for the personal project he calls "Project 66," unveiled his end times infographic earlier than he had planned, due to high demand for an illustration of the differing views on the end times among evangelical Christians.
In Christianity, the end times is punctuated by the tribulation, the rapture and the second coming of Jesus Christ, and is often discussed along the lines of premillennialism, postmillennialism and amillennialism. The Book of Revelation, the final book of the Bible, is usually cited in these discussions, although other New Testament books and prophetic books of the Old Testament are referenced as well. Christians believe the Bible teaches that Jesus Christ will return at some future point to reign on Earth and judge the world — although the purported timeline of events are hotly debated.
"I did quite a bit of research from my own notes, papers and positions online and I also collaborated with my dad and a few friends," Byers explained to The Christian Post. "The main difficulties were trying to accurately represent as many views as possible but keep the graphic simple and to find a way visually [to] show similarities and differences. There are so many different subsets of beliefs this graphic could probably be never ending."
Byers explains on his website, however, "An interesting concept that the graphic portrays is that each view agrees on the beginning and end. Every view believes that the kingdom was promised in the Old Testament, presented by Jesus and will culminate in the eternal state."
Some main points of contention among premillennialists, postmillennialists and amillennialists involve the tribulation, the rapture and the form and establishment of Christ's kingdom. The tribulation, a time of intense suffering brought on by cataclysmic events, is present in all three views, although its length is debated.
The rapture, an event in which Christ's followers are "caught up" from the Earth to "meet him in the air" (1 Thessalonians 4:17) is held only by premillennialists, according to Byers' chart, although there is disagreement among that group about whether the rapture will occur before or after the tribulation.
Byers' infographic notes that amillennialists believe Jesus establishes his kingdom through the Christian Church, while postmillennialists believe Jesus' disciples were commissioned to establish his earthly kingdom.
The graphic designer told CP that he was originally inspired to create theological infographics after viewing a few wallpapers at The Resurgence ministry website.
"I created a couple and then noticed Tim Challies was starting to produce his own set of 'visual theology' pieces," Byers explained. "I contacted Tim to see if he would be interested in featuring a few that I had made and he ended up commissioning me to create two additional pieces which were 'The Books of the Bible' and 'To the Glory of God.'"
"I decided to keep on creating them because I really liked how they turned out, got tons of positive feedback, and the Internet in general seems to be in love with infographics," he added.
Byers says he spends anywhere from 10-20 hours producing a single infographic, and tries to publish a new one every week. His favorite illustration so far is "The Book of the Bible." He plans to next create a Book of Leviticus ingrographic, which "will focus on the five different offerings described in the book."
While he produces infographics out of his passion to teach and help others, Byers told CP that "Project 66" is time consuming, but he appreciates the support he receives through print sales of his infographics, which can be found on his website.
"It has a few purposes," Byers said of "Project 66," explaining that he wants to challenge himself both creatively and theologically.
But, he added, "I want to give people fun, innovative, modern and interesting tools to teach with."
Byers, a front end developer for CopyBlogger Media, lives with his wife and three children in Polk City, Iowa. He serves at Lakeside Fellowship church as the student ministries director.