Eric Holder Arrives in Ferguson, Urges Healing and Supports 'Legitimate Demonstrators'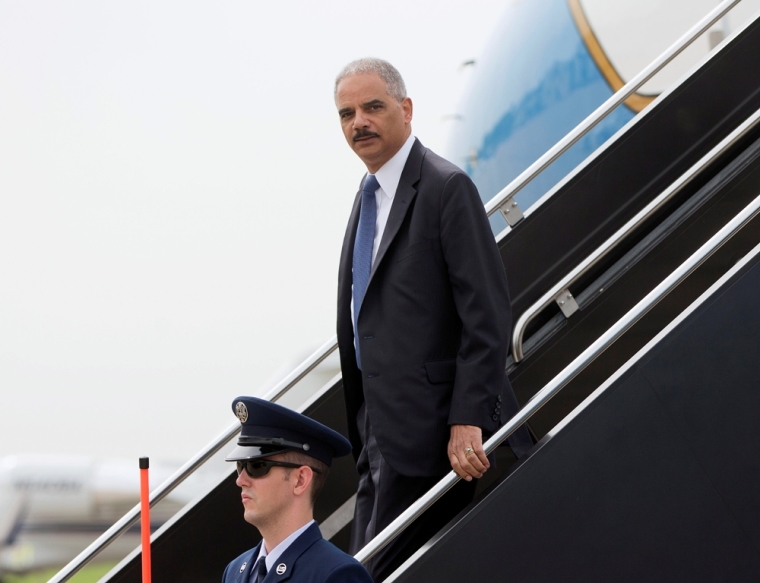 Eric Holder, the first African American U.S. attorney general, landed Wednesday in Ferguson, Missouri, where racial tension is boiling over, and pleaded for the end of violence on the small town's streets, which he says "seriously undermine[s] ... the cause of justice."
"We understand the need for an independent investigation, and we hope that the independence and thoroughness of our investigation will bring some measure of calm to the tensions in Ferguson," Holder wrote in an open letter in the St. Louis Times Dispatch.
"In order to begin the healing process, however, we must first see an end to the acts of violence in the streets of Ferguson. Although these acts have been committed by a very small minority — and, in many cases, by individuals from outside Ferguson — they seriously undermine, rather than advance, the cause of justice. And they interrupt the deeper conversation that the legitimate demonstrators are trying to advance."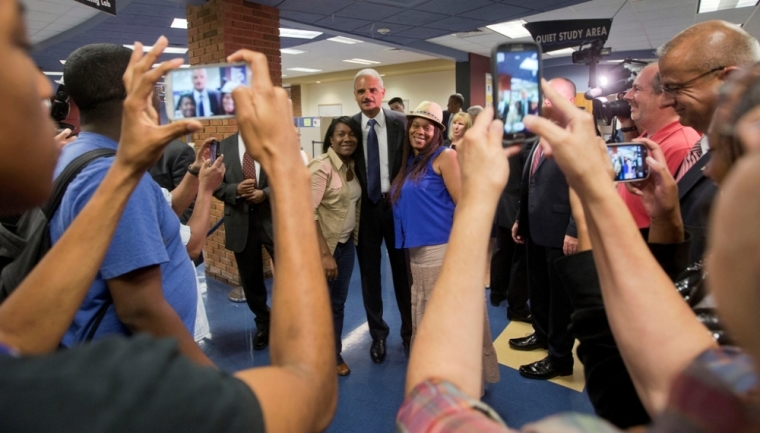 President Barack Obama sent Holder to Ferguson to meet with the FBI and other officials who have been conducting investigation for the past 11 days since the shooting of 18-year-old Michael Brown, who is African American, by White police officer Darren Wilson. Holder has organized civil rights and federal investigations into the death of Brown and also arranged for a federal autopsy.
His first meeting in Ferguson was at the Florissant campus of St. Louis Community College, where he not only spoke to students but listened to them voice their frustrations with the police department.
In his open letter, Holder said he understood the difficulty of the job police had in dealing with the shooting and its aftermath. "Law enforcement has a role to play in reducing tensions, as well," Holder pens. "As the brother of a retired law enforcement officer, I know firsthand that our men and women in uniform perform their duties in the face of tremendous threats and significant personal risk. They put their lives on the line every day, and they often have to make split-second decisions."
But he also said, "At the same time, good law enforcement requires forging bonds of trust between the police and the public."
"This trust is all-important, but it is also fragile. It requires that force be used in appropriate ways. Enforcement priorities and arrest patterns must not lead to disparate treatment under the law, even if such treatment is unintended. And police forces should reflect the diversity of the communities they serve."