Eric Metaxas: Christians Should Respond to Dallas Cop Shootings With Silence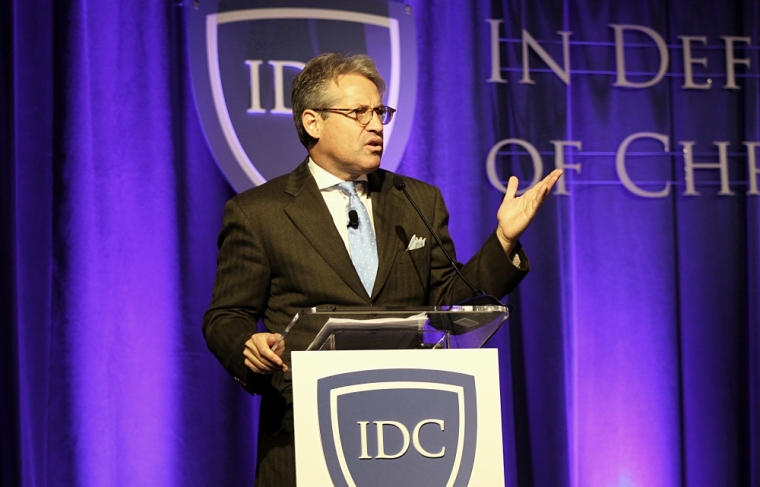 SILVER SPRING, Maryland — In response to the killing of Dallas police officers Thursday night, New York Times bestselling author Eric Metaxas argues that the best thing for Christians to do in response to the violence is to just "shut up" and ask God to have mercy.
Following the news that five police officers were killed and seven injured in ambush shootings during a protest in Dallas, Metaxas, who authored the recently released book If You Can Keep It: The Forgotten Promise of American Liberty, gave a keynote address at The Bridge, a three-day conference focusing on the persecuted church, organized by International Christian Concern, Friday morning.
As Metaxas' addressed the fact that many atheists and non-believers have an "affinity of great reasons" for their skepticism and have great questions that Christians don't have good answers to, one of the questions that he brought up was why God allows terrible atrocities to occur if He really is so good.
"Those are great questions and as believers we have to be open to those questions and we don't need to feel like we have an answer because sometimes the answer is just silence, like with what happened last night with all these cops being killed," Metaxas said. "I think the beauty of this whole thing is that nobody is out there [calling out] 'Gun control!' and 'Racism!' Sometimes the smartest thing is just to shut up."
As the details of the shooting unfolds, Metaxas warns that there really isn't much of substance to say about the shootings.
"Is there anything to say about these cops being killed? Anything?" Metaxas asked. "There is really nothing to say in my opinion. It's a horror and the best thing we can do is shut up. It's a horror, a tragedy and sometimes our response as believers, the most wise response is to say 'I have nothing to say. God have mercy. Lord have mercy. I am shut up, I am silenced.' Sometimes as believers we have a tendency to think that I have the answer."
There is really no way of knowing why God allowed the cops to be killed in Dallas or why God allows Christians and others to be beheaded in the Middle East. However, strong questioning from non-believers should not stop believers from believing in the goodness of Christ, Metaxas added.
"When somebody says, 'How can you believe in the good of God when all this [horrible] stuff is going on. That doesn't make sense to me.' We have a good understanding that is a very good point," Metaxas asserted. "We also have to acknowledge that we don't really have an answer for that. If someone says, 'I have an answer.' No you don't have an answer for that."
"Sometimes there is a holy mystery and you just have to say 'I don't know.' When I get to Heaven I am going to ask the Lord and say, 'Lord, I have to confess, I don't understand how you could allow these [atrocities] to happen?'" Metaxas explained. "We want to respect skeptical questions and say 'That is a good question but that doesn't mean that is going to make me not believe in God.'"