Eric Metaxas, Jim Wallis Debate Evangelical Support for Trump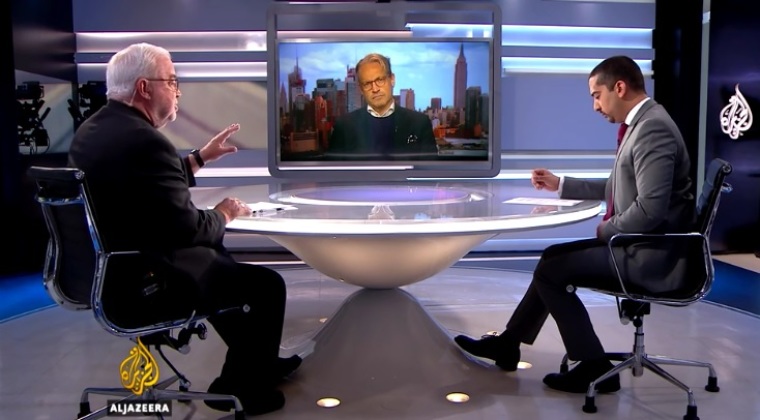 Conservative radio host and best-selling author Eric Metaxas debated left-leaning evangelical social justice advocate the Rev. Jim Wallis on the topic of evangelical support for President Donald Trump in the 2016 election on Saturday.
As exit polls have shown that about eight in 10 self-identified white evangelicals or born-again Christians voted for Trump in the election, Metaxas, a Trump supporter, and Wallis, the founder of the Christian social justice group Sojourners and a Trump critic, appeared on the "UpFront" news program on that Qatari-based network Al Jazeera.
It was pretty clear from the onset that Metaxas was on the hotseat, as host Mehdi Hasan grilled the radio host over the morality of supporting a thrice married billionaire real estate mogul. Hasan asserted that Trump "is not really a guy most Christians would opt for given his record on lack of profession of faith, his personal life, bragging about sexually assaulting women."
"Evangelicals — black evangelicals, Hispanic evangelicals, Asian-American evangelicals — did not vote for Donald Trump. So, white evangelicals did, I think, because they were more white than evangelical," Wallis argued, echoing a point he made in an interview with The Christian Post earlier this year. "There has never been a racial divide like this in the churches. Black evangelicals said to white evangelicals — 'So, you are saying you didn't vote for Donald Trump because of his racial bigotry, but his racial bigotry wasn't a deal breaker, a disqualifier for you?' That's why there is such a gap here."
Metaxas responded by arguing that liberals are "obsessed with dividing people up into racial categories."
"I would say that the Democratic Party has taken African-Americans and Hispanics for granted. They have not served them well. They have served them incredibly poorly over the last 40 or 50 years. So, a lot of people thought, I actually think Donald Trump would do better for them," Metaxas said. "I think that is a fact and people know that many African-Americans and Hispanics voted for Trump. People don't talk about that, but compared to how many voted for Bush and voted for Romney, that ought to be mentioned."
Although exit polls show that a lower percentage of minorities voted for Clinton as compared to Obama, Wallis tried to shoot down Metaxas' claim that more minorities voted for Trump than in elections past.
"That's not true. None of that is true," Wallis said. "This is not about Hillary Clinton, or the Democratic Party."
Later in the segment, Hasan asked Metaxas if he felt "repulsed" by some of the things Trump has said and done in the past. When Metaxas answered that he was absolutely repulsed, Hasan asked Metaxas if he had to hold his nose when he voted.
Metaxas admitted that Trump was somewhat of a lesser of two evils. Even though Wallis had said earlier that it was "not about Hillary Clinton," Metaxas asserted that Clinton is a large reason why so many conservatives and evangelicals supported Trump.
"Yes, I said that my support was tepid but people don't really believe that can be possible. The fact of the matter is this, Hillary Clinton was so frightening to so many people," Metaxas said.
Hasan concluded the segment with the topic of abortion, which got a bit testy after Hasan asserted that evangelicals were willing to look past Trump's faults just to get the Supreme Court nominee they wanted and when Metaxas compared abortion to slavery.
"This is something that we will be held accountable for by God as a nation and it seems to me that it's just like slavery. When something you know in your heart is wrong, you want to do anything you can to help people wake up," Metaxas said. "I think by appointing Gorsuch or whomever, you will at least get it pushed back to the states so that American citizens can vote on it, rather than that Supreme Court finding some ridiculous place in the Constitution where they claim there is a right to an abortion, which most lawyers say there is not."
Hasan responded by warning Metaxas that there were a lot of women watching his show and they would be offended by his comment comparing abortion to slavery.
"Good for them. I'm offended that they're offended," Metaxas replied. "None of those women were aborted, if you notice."
Hasan continued, "They would look at you and say you are being cynical because you are saying, 'Here is a guy that is being accused of sexual assault by a dozen women,' and you are saying, 'No, that's not the deal breaker. Abortion is the deal breaker for me.'"
Metaxas then accused Hasan of using the media tactic of trying to paint him into a corner.
"What the media tends to do, and what you are doing now, is you are trying to force people into saying, 'Yes, I am cynical. This is all I care about,'" Metaxas said. "People are much more complicated and nuanced than that. There is a hundred things that causes us to vote or not vote for someone. You have to take them all into consideration."
Metaxas further noted that a lot of people voted for Trump because they feared that a Clinton administration would be corrupt.
"So, they opted for a guy whose family business is now intertwined with the U.S. government?" Hasan asked.
Metaxas replied, "I don't believe that Donald Trump cares about his business at this point."
After a lengthy back-and-forth between Hasan and Metaxas, Wallis jumped in and said that he voted against Trump, in part, because he is "pro-life, not just pro-birth."
"But when children come out of the womb, if they are poor, if they are vulnerable, if they are black, Donald Trump is destroying their lives," Wallis said. "Pro-life means, and Pope Francis has made this very clear, pro-life is not just about abortion. It's about how we treat the poor and all of life."