Eric Metaxas: 'Sacred-Secular Divide' Is From 'the Pit of Hell'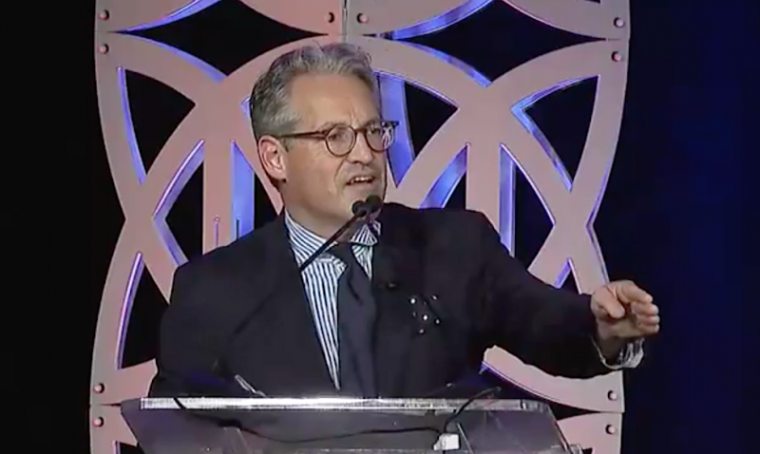 WASHINGTON — Conservative Christian radio host and best-selling author Eric Metaxas called out Christians who feel they don't need to share Christ with others just because they are not leaders in the Church.
Addressing hundreds gathered for the Colson Center's 2018 Wilberforce Weekend conference, the 55-year-old nationally syndicated radio host warned against the idea that some lay Christians have that they can separate their secular work lives with the Lord's call for them to share with the world the hope Christ.
"The Lord created each one of us to serve Him and live for Him in every atom of our being, no matter what you are doing," Metaxas said on Friday. "Any time anyone has an attitude like, 'That's ministry and I am just a business guy, and I can live in a big house, and have boats and stuff because I am not in ministry, but the pastor shouldn't have that,' I come here to tell you there is something fundamentally wrong with that concept."
Metaxas stated that for Christians, there are two options: "Either you are sold out to Jesus and live your life in His glory with how you spend your money and your time" or "you don't."
While some might think as long as they attend church and maybe even join a church committee that they can leave their faith at home when they go out into the secular world, Metaxas stressed that "no one escapes [the fact] that every square inch of creation belongs to Him."
"For us to put ourselves in some religious quarter, is to participate in our own marginalization," Metaxas argued. "It is kind of like saying, 'I agree that we should only have freedom of worship. We go into that little weird building on Sunday morning and do our our little weird rituals and we come out and we bow before the secular authority of the state and the culture.'"
"That is out of the pit of Hell," he continued. "Many Christians participate in that — many Christians that I am friends with, I'm sure some Christians in this room. I have been in churches where that is a big part of what is going on. That is wrong. "
Metaxas, who was raised in Connecticut in the Greek Orthodox Church before he became born-again at the age of 25, criticized the Greek Orthodox Church for being "famous for the secular-sacred divide."
"[I]t is heinous thing because it doesn't tell the faithful that you are the Church and your job is evangelism and your job is spreading the Gospel," Metaxas explained. "It is not the priest's job. The priest's job is to prepare you to equip the Church."
As Metaxas and other speakers Friday night addressed the topic of "sacred calling," the author explained it took him a while after he graduated from Yale University to figure out what he was supposed to do with his life.
Metaxas would find out later that his desire to be a fiction writer was different from what God was calling him to do.
Although Metaxas wrote for the kids cartoon series "Veggietales" and wrote commentaries for Chuck Colson's "BreakPoint" radio program, his most successful writing ventures would be biographies on historical Christian figures, including his 2011 New York Times bestselling biography on Dietrich Bonhoeffer.
Metaxas said that he felt that God called him to write the book Bonhoeffer and had to fight for it to be published in its entirety.
"I never doubted that the Lord was with me on this journey and I was faithful to Him and wanted to be but it was hard," he said. "Sometimes, if you have a deep calling from the Lord, it is hard. If it is a deep calling, you know that you are not going to let go but that doesn't mean everybody else is going to see it."
After writing several books, Metaxas was called to host a two-hour daily radio show that is nationally syndicated by the Salem Radio Network in 2015 — a program known as "The Eric Metaxas Show."
Although Metaxas is a born-again conservative Christian, he admitted that his show is not explicitly Christian or conservative.
While there have been prominent guests on his show to talk about religion and politics, his show has also featured a number of guests whom he didn't talk about politics or religion with. Most recently, he said, he had on Marion Ross, the actress who played Mrs. Cunningham on the 1970s sitcom "Happy Days."
"What am I trying to do there? I am trying to send out a message that God called me to have this conversation, to have this conversation just as much as He has called me to have a conversation with John Stonestreet, N.T. Wright or whoever," Metaxas said. "It is all part of Jesus' world. I want listeners to know that. I want to train Christians who listen to the program to understand that you can talk to someone who doesn't agree with you and you can talk to someone who is agnostic or someone who doesn't even think about religion and be respectful to them."
"That is exactly what we are supposed to do and I want to model that to the Church but I also want to model that to some trucker who is flipping around on his radio," Metaxas added. "We got music that lays down a bed of secular expectations and then the next thing you know, I am talking to [Christian social critic and author] Os Guinness or somebody. I think the Lord created me to confuse people enough so that they are forced to pay attention."
Metaxas said that he wasn't called to do conservative radio or Christian radio but rather that he was called to do a "stealth mission" radio show.
Although he ideally wants listeners to experience the love and grace of Christ, Metaxas suggested that it would be unwise for "The Eric Metaxas Show" to be upfront in its declaration that it is a Christian show because it could push away nonbelievers interested in whatever conversation he is having on the show who can be taught that "Jesus is for them."
"The bottom line is that it took me time to get comfortable with this idea that what the Lord was doing in my life was something unique. I hadn't seen it before," Metaxas said. "I had a keen sense that He was calling me to kind of defy sacred-secular divide, to say that the sacred-secular divide is the lie from the pit of Hell, as all lies are. It hurts people and it leads people to Hell."