Erica Campbell on Parenting, Restoring Marriage After Adultery and Baring All in New Reality Show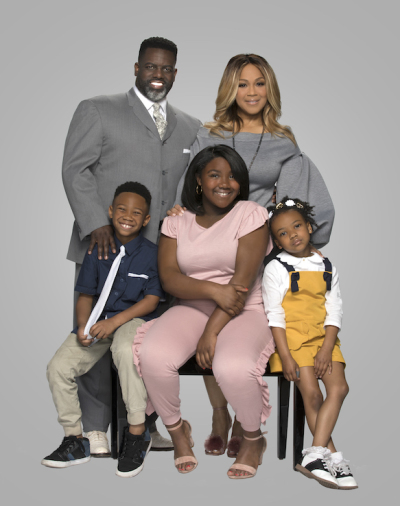 TV One is gearing up for the premiere of "We're the Campbells," a new reality series featuring one half of the gospel group Mary Mary, Erica Campbell, her husband, world-renowned music producer/pastor Warryn Campbell, their children and extended family. The series will show the realities of parenting in this day and age, how they work to keep their love strong after infidelity and more.
"We're the Campbells," which begins June 19, is a nine-episode docu-series that will give viewers an intimate glimpse into the lives of the Gospel entertainment power couple and their three children Warryn, Zaya and teenager Krista.
Campbell, who has been on reality TV before with her sister Tina, said that in this new show, viewers can expect to see a "real family," a couple raising kids, trying to stay in love, and managing music, church and their careers.
"I know a lot of times you actually don't see the kids and the issues, but we're really tapping into what happens with kids — feeling accepted, colorism, self–acceptance — all the while trying to manage our faith, our family," the Grammy Award-winning songstress told The Christian Post.
"I love my relationship with my kids and we know that it mirrors a lot of other people's relationships. A lot of other parents are trying to figure out how to deal with these things. We've been given a platform and a voice of influence and that's a blessing, so it allows us the opportunity to share our experience with other families giving them something to watch together."
Campbell said families usually have programs that the adults watch separately from their children and vise versa but "We're the Campbells" is a show that the entire family can enjoy together.
"Not only is it answering life questions, cultural questions but it gives them something to do together," she added.
When asked about the pressure they face while parenting in the public eye in their upcoming series, Campbell said they do not worry about being politically correct. They tackle racism, self-acceptance, bullies and how to respond and "rise above."
"Truth does sting but when truth is wrapped in love, you can always at least listen to it. And it makes it open for conversation when the truth doesn't come with judgment or condemnation. I tell my kids all the time we can discuss anything, I can always deal with the truth but I could never deal with a lie. So we deal in truth and hopefully, people can see and understand and respect that."
In a clip that aired on the Own Network's "Black Love" in September 2017, Campbell and her husband opened up about a time when his "selfish behavior" led him to cheat on his wife. Warryn is an award-winning music producer for some of today's most influential artists, a pastor of the California Worship Center and founder of the record label My Block Inc. The couple managed to get past that hard season of their marriage and the singer revealed that their new show will show how their bond is now better than ever.
"I hope that viewers see real love, communication, honesty, growing past and even falling deeply in love of each other because of a different level of honesty," Campbell said of her marriage. "None of it can happen without forgiveness and because we are believers I have to lean on how would Jesus handle it."
"Am I adhering to what I ask God to forgive me for? That's what love is supposed to do. Even in a relationship, it's sometimes the last thing we want to do. But I can't feel justified as a believer asking God to give me something that I'm not willing to give. So I'm hoping that's what they see," she added.
The happy couple no longer live their lives in the past because they hold to the Bible verse found in 2 Timothy 1:7, which says fear does not come from God.
"I pay attention to who we are now and not who we were then," Campbell declared. "Anytime you look in the rear view mirror it will distract you from the big window that's ahead of you, so I try not to look at what's behind me. We look forward, we hope forward, we love forward we, and live forward."
Reality TV shows can show people in both a positive and negative light. Nevertheless, Campbell said she and her family want people to see their full testimony.
"We don't serve God or people by pretending like nothing is ever wrong. If anything, God gets the glory when we say, 'I was at the lowest of the low, the broken of the broken and God put the pieces back together,'" the entertainer testified.
"At the same time, I'm not held hostage to what anybody thinks because none of those people will be standing there when I stand before God. They didn't put me in this position, God did! They didn't open these doors, God did!" she exclaimed. "Now, yes, we are in a position of servitude and we serve people so you must be wise, but it's more about my reflection of God, not what people think. The worst thing you can do as believers is be afraid of people."
The nationally-syndicated radio host explained what she hopes viewers will take away from watching the series.
"I hope they see that we are not just an exception but that we are a reflection of what family is," Campbell stated. "Because I know that we're not the only good family, not a perfect family, but good family and there are a lot of them out there. So I hope that we are really a reflection of the possibility of what family is.
"TV does not show a good reflection of marriage and relationship. We hope to counter that, kids growing up and teaching them life lessons and going through the tough stuff. We want them to understand that all things are possible to them that believe. We have to be a reflection of that to show people to love family and be bold about their faith in a loving, fruitful way, in the way of Jesus."
Campbell said from here on out she will be focusing on the series, her family, serving as first lady of the family church, as well as her new book, which will promote her hair extension and wig collection.
Follow Jeannie Law on Twitter:
@jlawcp