ESPN Affiliate to Launch Radio Show Focusing on Faith in Sports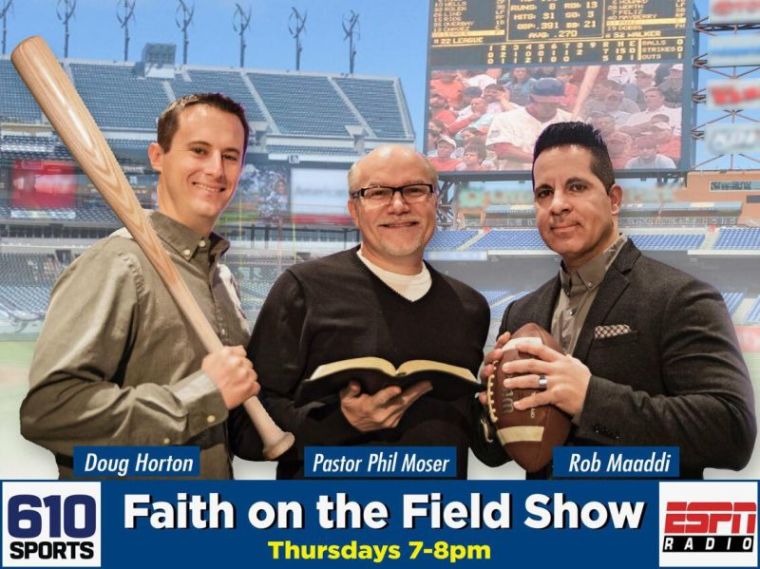 An ESPN radio affiliate will soon launch a weekly sports talk radio show that will focus on "the impact of faith in the sports world" and feature interviews with professional athletes who will discuss the role faith has played in their lives.
Rob Maaddi, an Associated Press sports writer, will host the new hour-long radio program, "Faith on the Field," which debuts in April. He told The Christian Post that although he has many roles as a writer, author and radio and TV personality, his "main job in the world is to be a messenger for Christ."
"I want to increase the Kingdom, spread the Word, encourage Christians to share their faith and inspire nonbelievers to turn to the Lord," he said. "So this show will be a forum for athletes to talk about the work God has done in their lives and hopefully we give all of our listeners an entertaining, engaging sports-talk experience that impacts them much greater than scores, stats, opinions and analysis."
Maaddi, a devout non-denominational Christian who has authored a number of sports books, including Football Faith: 52 NFL Stars Reflect on Their Faith and Baseball Faith: 52 MLB Stars Reflect on Their Faith, told CP that he has had the idea for a show like this for quite some time but the plan didn't fall together until after Pastor Phil Moser at Fellowship Bible Church in Sewell, New Jersey, invited him and his friend Doug Horton, to a Bible study.
While Rob will serve as the show's primary host and lead discussion, Moser, the author of the Biblical Strategies book series, and Horton, co-founder of the charity obstacle course event Goliathon, will be co-hosts on the show.
Through his work over the years covering Philadelphia sports teams, Maaddi has been able to build relationships with Christian professional athletes across the country.
"We'll have various Christian athletes on the show from around the country, though my access to Philly players will make them my go-to guys," Maaddi explained. "I have a strong network of players, hall of famers, MVPs, all-stars, thanks to Football Faith and Baseball Faith."
Maaddi and Horton are both serving members of the Deacons Prison Ministry, a group founded in 2014 that travels to various prisons in Maryland, Pennsylvania, Delaware, New Jersey and New York, using the game of softball to minister to inmates in the name of Christ.
"The work God does through us is amazing. Seeing so many men come to Christ and then start Bible studies and chapel service in their cells is such a rewarding experience," Maaddi said. "But it only gave me a thirst to do more. I want to keep working to increase the Kingdom, to take my story and the Lord's message to a bigger audience."
Last October, Maaddi and his wife, Remy, made the decision to get baptized at Gloucester County Community Church in Sewell.
Maaddi explained in a Facebook post that they felt called to make their own decisions to get baptized, saying that the Bible teaches that "baptism should come after you commit your life to Christ." Maaddi wrote that although he grew up in a Catholic family, it wasn't until 2010 when he became a true follower of Christ and finally "confirmed" his commitment to Christ through the baptism.
"Faith on the Field" will be broadcasted on ESPN's Philadelphia radio affiliate, AM 610, on Thursday nights from 7 to 8 p.m. ET. The program will debut on April 6 and will also be available on podcast and the iHeart and TuneIn radio apps.