Tim Tebow Receives Standing Ovation After Hitting Into Double Play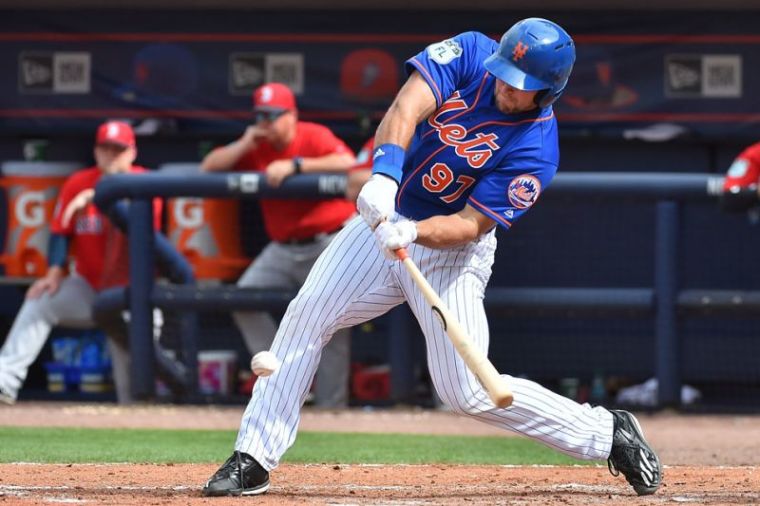 Hitting into an ordinary run-scoring double play doesn't usually warrant a standing ovation from the crowd at a professional Major League Baseball game. However, popular Christian athlete Tim Tebow received a large applause from fans at the New York Mets' Spring Training game on Wednesday afternoon after doing exactly that.
The ovation came as the football-turned-baseball star played in his first-ever Spring Training game against the Boston Red Sox in Port St. Lucie, Florida, where he was the designated hitter and batted in the No. 8 spot in the Mets' lineup.
Tebow, who signed with the Mets last September on a minor-league deal, went 0-for-3, struck out twice and grounded into a double play in the bottom of the fourth inning.
Wednesday's game marked the first time that Tebow has had to face elite MLB pitching. In his first at-bat, the former Florida Gator faced the reigning American League Cy Young Award winner, Rick Porcello, in the bottom of the third inning and struck out on a called third strike.
Tebow came up to bat again in the bottom of the fourth inning with the bases loaded and no outs and faced Red Sox pitcher Noe Ramirez. On a 1-2 count, Tebow hit a groundball to second baseman Deven Marrero, who was able to flip the ball to the shortstop, who touched second base and threw on to the first baseman to complete the routine double play.
But because the bases were loaded with no outs, a run was able to score on the play. However, Tebow was not awarded a run batted in because it was a double play.
Tebow's double play tied the game but also ended the momentum the Mets offense had with the bases loaded and no outs. The Mets were not able to score another run in that inning but went on to win the exhibition contest, 8-7.
Even though hitting into a double play was not ideal for Tebow, the fans at First Data Field were at least happy to see the former NFL quarterback knock in the game-tying run. The fans got on their feet to give the former Heisman Trophy winner an ovation.
"First Standing O I have every seen for hitting into a double play," Mets' color commentator and former Mets pitcher Ron Darling said during the television broadcast on SportsNet New York.
Tebow created headlines earlier this spring when he hit nine home runs in batting practice during his first spring workout with the Mets. However, that is not something that Mets fans should get too excited about.
Last fall, Tebow played in the Arizona Fall League, a developmental league for MLB prospects, and struck out in 20 of his 62 at bats. Although his fall season got off to a slow start, Tebow showed signs of improvement, as he got nine hits in his last 32 at-bats with eight walks, which equates to a respectable .281 average and .452 on-base percentage.
In total, Tebow finished with a very poor .194 batting average with no home runs and just two runs batted in.
It was reported by ESPN that over the offseason, Tebow worked out with fellow Christian baseball star Daniel Murphy, a former Mets player who now plays with the Washington Nationals.
In 2015, Murphy came under scrutiny after he said that he "disagree[s] with the [gay] lifestyle, 100 percent."