Steph Curry: 'I Want My Life to Reflect God's Love, Grace and Mercy'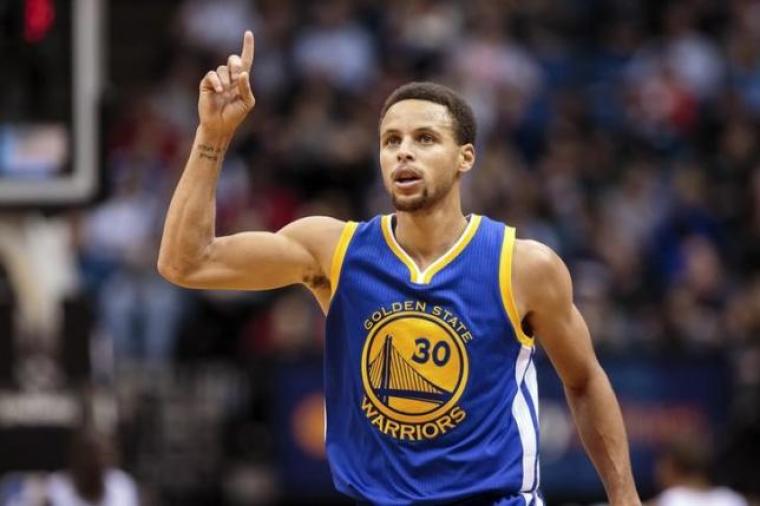 Steph Curry is one of the NBA's best shooters, but the Golden State Warriors guard says he also wants to be known for reflecting God's love.
The 28 year old spoke at Liberty University's convocation last week where he revealed that his NBA career has been about more than just fame and accolades.
"The Lord has blessed me with these talents to do something special. But it is not about me," the two-time reigning league MVP said, according to the Liberty University website. "That is something that I want my career and my life to be a reflection of — His love and His grace and mercy. Whether it is winning games, losing games, making shots, missing shots — it is all about giving glory to God."
Curry said it was amazing to be surrounded by the love of God at Liberty University where his younger brother, Seth Curry, once played. During his speech there, the Warriors star encouraged the students to take advantage of their platform.
"It is amazing to be here and to feel the love and the vibe and the passion for Christ that is here. I commend you guys for creating that kind of environment," he said. "Part of that is being confident in your abilities and the platform that God has given you and using that platform to shine the light back to Him. That is the only reason that I feel like I do, and I have been blessed with the talents that I have."
Aside from speaking at Liberty, Curry also lent his star power to a charitable initiative called Kick'n It for a Cause which donated 20,000 sneakers to people in need in the Democratic Republic of Congo. While it was Curry's first time to speak at the Lynchburg, Virginia-based university, his wife, Ayesha Curry, spoke there last year.
During her convocation speech at the university last year, the 27-year-old author of The Seasoned Life: Food, Family, Faith, and the Joy of Eating Well and host of the food network show "Ayesha's Homemade," encouraged students to be grateful for being in an environment where they can express their faith without fear of being persecuted for it.
"You guys should be so grateful to have such an amazing community here and this incredible environment to just worship and enjoy the Lord," Ayesha told those in attendance, according to the Liberty University News Service. "It is such an amazing feeling, the worship ... just to have that in your back pocket every couple of days, to be able to just serve Him and worship Him, that is special. Don't take it for granted, it is a beautiful thing."