Esquire Picks Pope Francis as 'Best Dressed Man of 2013;' Majority of US Catholics Approve of Francis' Direction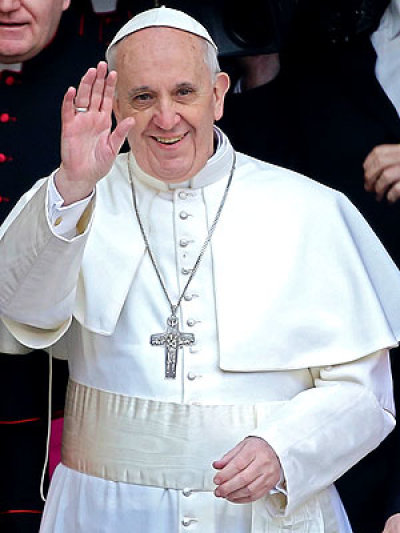 The men's magazine Esquire elected to pick an unorthodox icon of men's fashion this year – Pope Francis. A new poll also shows a majority of American Catholics approve of the pope and say he is leading the church in the right direction.
"The humility of his garments offers a way to visibly display his theological and material concerns for the poor," Ann Pellegrini, associate professor of performance studies and religious studies at New York University, told the magazine. "This Holy Roman emperor really does have new clothes."
This pope's humble fashion sense began as early as his installment in March. After being chosen by the conclave, Francis decided to keep the same coat of arms he held as Archbishop of Buenos Aires and picked the simplest ring offered him, The Huffington Post reported. The only symbols added to his original coat of arms are those customary for every pope – a gilded miter and crossed gold and silver keys.
"No rapper-style popewear for him," Mary Lisa Gavenas, author of The Fairchild Encyclopedia of Menswear, told Esquire. "Pope Francis has been big on symbolic gestures – paying his own bill at a hotel owned by the Church or washing the feet of inmates (two of whom were female) on Holy Thursday – and the black shoes and unadorned, simplistic regalia are just an outward acknowledgement of his progressive orthodoxy," the magazine's Max Berlinger explained.
The magazine emphasized a common theme for admirers of Pope Francis – the promise of reform in the Catholic Church. "Pope Francis's sartorial decisions have subtly signaled a new era (and for many, renewed hope) for the Catholic Church," Berlinger wrote.
Time Magazine named Pope Francis its "Person of the Year" for 2013. "In a matter of months, Francis has elevated the healing mission of the church – the church as servant and comforter of hurting people in an often harsh world – above the doctrinal police work so important to his recent predecessors," Time's Howard Chua-Eoan and Elizabeth Dias wrote.
"He has this charisma which seems to come out of nowhere," Chua-Eoan declared. "He's 77, and suddenly he is hugging people who you would not even want to touch, he is washing the feet of convicts, he is saying mass for immigrants."
Not every action of the new pope has gone unopposed, however. In a recent letter to the entire Roman Catholic Church, Francis attacked the "new tyranny" of "unfettered capitalism," bringing the ire of radio host Rush Limbaugh. Limbaugh called these sentiments "pure Marxism," and denounced the pope as uninformed on economic issues and duped by a worldwide Marxist movement.
Nevertheless, a recent poll confirms the pope's popularity. An ABC News/Washington Post poll found that 92 percent of American Catholics have a favorable opinion of Pope Francis, and 85 percent think he is moving the church in the right direction.
"This pope has successfully, finally shattered the caricature of the church that his predecessors have tried hard to do," Cardinal Timothy Dolan of New York told ABC News. According to Dolan, Francis has dispelled the caricature "that the church is kind of mean and dour and always telling us why we should be excluded."
Instead, Francis is saying, "Oh no, come on in, the church is about warmth and tenderness," Dolan explained.