Eugene Peterson Retracts Support for Gay Marriage, Says He Was 'Put on the Spot'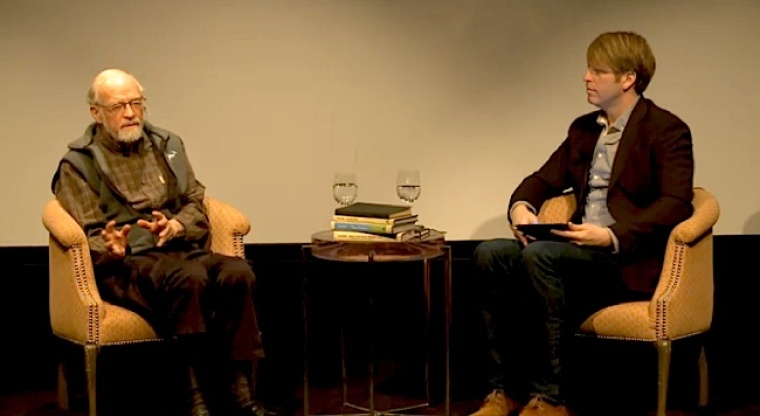 Eugene Peterson has reversed his new stance affirming gay marriage, saying he was "put on the spot" and that he really does believe in traditional marriage.
"To clarify, I affirm a biblical view of marriage: one man to one woman. I affirm a biblical view of everything," Peterson said in a lengthy statement to The Washington Post Thursday.
"When put on the spot by this particular interviewer, I said yes in the moment," Peterson said of the moment he was asked by Jonathan Merritt in a Religion News Service interview whether he would perform a same-sex marriage.
In the interview released this week, the 84-year-old Presbyterian pastor and author of more than 30 books, including The Message, said that the Christian church was in "transition" on the issue and that he knew a lot of gays and lesbians with good spiritual lives. "I don't think it's something that you can parade, but it's not a right or wrong thing as far as I'm concerned," he said.
He also said that he would officiate a same-sex couple's wedding if they asked him.
His change in stance on marriage and homosexuality drew a flurry of comments from both evangelicals and LGBT persons. Some evangelicals expressed disappointment while others were not surprised.
In his latest statement Thursday, Peterson said: "But on further reflection and prayer, I would like to retract that."
"That's not something I would do out of respect to the congregation, the larger church body, and the historic biblical Christian view and teaching on marriage. That said, I would still love such a couple as their pastor. They'd be welcome at my table, along with everybody else."
Several reports suggested that LifeWay Christian Stores was about to remove his books and resources from their shelves in light of his new views on the subject.
Yet in an email statement to The Christian Post, LifeWay spokesman Carol Pipes said that "based upon Eugene Peterson's retraction, we will continue to sell his resources."
The retail giant previously discontinued selling the books of speaker and author Jen Hatmaker when she came out in support of same-sex marriage, also in an interview with Religion News Service, last October. She said she believed that same-sex unions could be "holy."
Responding to Peterson's initial comments on homosexuality, Russell Moore, president of the Ethics & Religious Liberty Commission of the Southern Baptist Convention called Peterson's words "so disappointing" but said he would still read the author and learn from him.
On Thursday, Moore tweeted in response to Peterson's reversal that he was "glad to hear Eugene Peterson retract his earlier statement, endorse the historic Christian view of marriage."
Owen Strachan, a professor at Midwestern Baptist Theological Seminary, who also criticized Peterson's support for same-sex marriage expressed gratitude that he backpedaled.
"Praise the Lord. Whatever prompted this, it is a victory for God's truth," Strachan said on his Facebook page.
Matthew Vines, who identifies as a gay Christian, tweeted an irked response to Peterson's reversal: "Tip to anyone who cares about LGBTQ people: Never, ever say you are affirming if you aren't willing to pay the price. And it's a steep one."