Evangelical Leader Geoff Tunnicliffe Joins Crossroads Global Media Group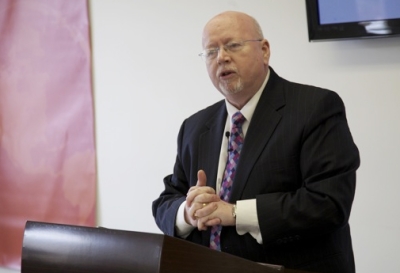 Evangelical leader Dr. Geoff Tunnicliffe has joined Crossroads' Board of Directors, the faith-based media group announced Monday.
Tunnicliffe, secretary general and CEO of the World Evangelical Alliance, will provide leadership to the global media group's USA and Canada board.
"Geoff is one of the most globally connected leaders I know," said Crossroads Global CEO Dr. John Hull, according to a released statement. "We look forward to him bringing all of his skills to our board tables."
Tunnicliffe has been serving as head of the WEA, which represents more than 600 million evangelicals, since 2005. He announced earlier this year that he would be stepping down once his second term concludes in December 2014. He told The Christian Post earlier that he wanted to pass on the leadership to a younger leader.
The long-time evangelical leader was an adviser for "The Bible," one of the most popular TV miniseries of all time that earned three Emmy nominations and garnered an average of 15 million viewers per episode this past spring, and the movie "Son of God," both produced by Mark Burnett and Roma Downey.
Crossroads Global Media Group, previously Crossroads Christian Communications Inc., has been providing faith and values media content for more than 50 years. Its flagship television program is "100 Huntley Street," which is the longest running Canadian daily television program.