Evangelical Mommy Blogger Considers Lawsuit Over LGBT Outlet's 'Hit Piece'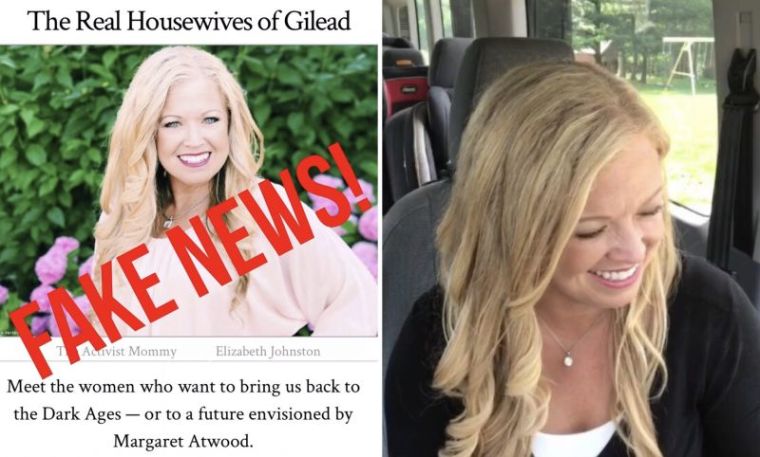 Correction Appended
A conservative Christian mommy blogger is threatening legal action against the LGBT news and commentary outlet The Advocate, saying that a recent piece published on its website contained libelous claims and several falsehoods about her and her husband's stances on marriage and political issues.
The Advocate, which is a bi-monthly magazine, published commentary on its website last week that was written by guest commentator Reay Earhart. The piece is titled "The Real Housewives of Gilead." In the article, "Gilead" is a reference to the fictional theocratic Republic of Gilead depicted in The Handmaid's Tale, a 1985 novel recently adapted for television. The piece was originally published on TransAdvocate.com earlier in June.
The article claims to introduce its readers to the "the women who want to bring us back to the Dark Ages" — whether that be former Republican Arizona State Sen. Sylvia Allen, women who work for the Family Research Council, sexual risk avoidance education advocate Valerie Huber, pro-life advocate Charmaine Yoest or Elizabeth Johnston, an Ohio homeschooling mother of 10 whose Facebook page has amassed 160,000 followers since she began posting video blogs over a year ago.
Earhart's commentary went into detail about what it reported to be the beliefs held by Johnston, an evangelical Christian who runs "The Activist Mommy" Facebook page and blog, and her husband, Dr. Patrick Johnston.
"In social media, perhaps no one better exemplifies the Real Housewives of Gilead more than "The Activist Mommy" (a.k.a. Grace Elizabeth Johnston)," The Advocate article reads.
However, Johnston told The Christian Post that several of the claims made in the article are "lies" and accused the commentary of being nothing more than a "hit piece" on her and husband. She told CP that she is talking with her attorney about possible legal action should The Advocate fail to delete the article and issue an apology.
"I'm no stranger to the pain of slander. You feel violated, like a knife stab from the inside that you can't see or remove," Johnston wrote in a blog post responding the The Advocate piece on Friday. "But honestly, the lies in The Advocate article don't hurt, because they're so unbelievably laughable and disingenuous that I think my husband and I got hernias from laughing so hard while reading it!"
Johnston wrote that she felt the need to respond once she saw that The Advocate article was being shared by thousands online.
Johnston's blog post highlighted 10 claims she considered to be "libelous" in The Advocate article.
Among other things, Johnston told CP that she believes that the article wrongly associates her and her husband with the view that husbands may violently chastise their wives or even rape their wives if they are unwilling to have sex. Johnston also said the article portrayed her husband as believing that immigration crimes should be a capital offense. She added that the article falsely accuses her of favoring a ban all forms of birth control, when she only favors banning abortifacient birth control methods.
The article also made two other claims:
- "She regularly pickets Planned Parenthood clinics and posts pictures of gay people along with the caption 'Leviticus 18:22.'"

- "She also goes to Pride Parades in Ohio to tell queer people they're abominations worthy of death, unless they become Christians exactly like her."
After Johnston reached out to The Advocate about her concerns this weekend, The Advocate added an editor's note to the article and removed a picture of Johnston as the article's main image. The Advocate offered both a clarification and correction note.
The Advocate's clarification note reads:
"In an email, the couple said they disagree with any teaching that says husbands can use violence to 'chastise' their wives, or that implies men can have sex with their wives without consent. Elizabeth Johnston said she and her husband also don't agree with the idea of mandatory church service. The Activist Mommy says she works outside the home and that she and her husband do not agree with any teaching that says women should be forbidden from work outside the home. Elizabeth Johnston says she and her husband also have not supported calls to arrest LGBT activists. Although the Johnstons oppose public nudity, they say they advocate breastfeeding in public. Although the Johnstons want many forms of birth control for women made illegal, they said they support condoms for men."
The Advocate's correction note reads:
"A list of things Patrick Johnston has suggested should be capital crimes had included illegal immigration, but it has now been removed because the Johnstons tell The Advocate they have not supported making illegal immigration a capital crime. The Johnstons also said crucifixion should not be included among a list of punishments they advocate using in the criminal justice system, and it has been removed. We apologize for the error."
Lucas Grindley, The Advocate's editor-in-chief, told CP in email Saturday that "The Activist Mommy is responding to a guest commentary that is the opinion of the author."
"As you've read in the commentary, The Activist Mommy is one among a larger group referenced by the writer," Grindley wrote.
Despite the correction and clarification, Johnston is still not happy. In an email shared with CP, Johnston told Grindley on Sunday that she still wants the article to be removed because it still contains several falsehoods.
"Problem is we didn't demand everything false be retracted. That's why we demanded it be deleted. I only wrote in my blog about the Top Ten lies," Johnston wrote in the email. "How do you demand a retraction of all the falsehoods? Almost the entire article is a work of fiction!"
She added that a claim in the article that accuses her of posting "pictures of gay people along with the caption 'Leviticus 18:22'" is false. She also stated that the claim in the piece that accused her going to gay pride parades and telling LGBT people "they're abominations worthy of death" is also false.
In an earlier email to Grindley, Johnston offered the following items of clarification:
- "The Johnstons do not believe a man should be permitted to rape their spouse. They teach that husbands should lay down their lives for their spouse.

-The Johnstons do not believe a man should be permitted to 'violently chastise' their spouse. They teach that husbands should love and sacrifice their own lives for their wives.

-The Johnstons do not believe church attendance should be mandatory by law, but a willful expression of one's love for God.

-The Johnstons do not believe women should be forbidden from working outside the home, for The Activist Mommy herself sometimes works outside the home.

-The Johnstons do not want to forbid public breastfeeding. They are advocates for public breastfeeding.

-The Johnstons do not want all birth control to be illegal.

-The Johnstons do not want to make violations of immigrant laws a capital crime.

-The Johnstons do not want to re-institute crucifixion.

-The Johnstons are not members of the Army of God organization.

-The Johnstons are not calling for the arrest of LGBT leaders."
Although Grindley initially responded to an email from CP on Saturday, he did not provide an answer to CP's question before press time about whether Earhart's article will be removed from the website after Johnston emailed him with that request.
Correction, July 3, 2017.
An earlier version of this article incorrectly stated that Johnston's husband is an attorney. He is a doctor.