Paige Patterson Friend Challenges Allegations, Offers Evidence; Says He Was Fired by Phone After Midnight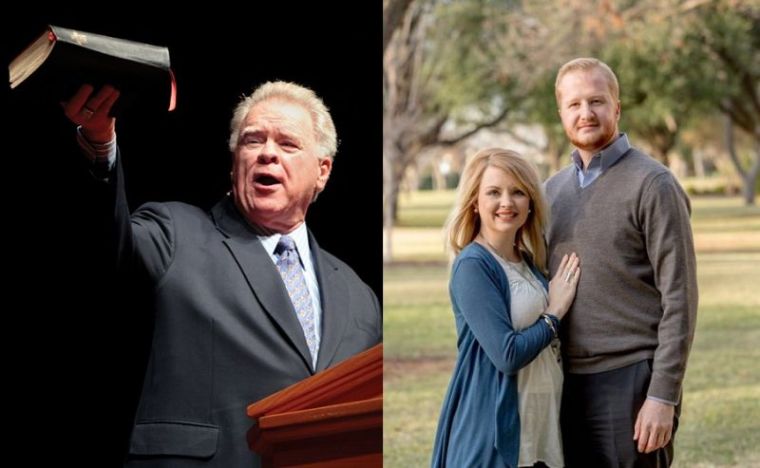 Update: June 2, 9:30 AM EST: Following this report, Kevin Ueckert, chairman of the board of trustees for Southwestern Baptist Theological Seminary, issued a statement Friday evening saying, in part:
"We confirmed this week through a student record, made available to me with permission, that an allegation of rape was indeed made by a female student at Southeastern Baptist Theological Seminary in 2003. This information contradicts a statement previously provided by Dr. Patterson in response to a direct question by a board member regarding the incident referenced in our May 30 statement. The 2003 rape allegation was never reported to local law enforcement. SWBTS will not release the student record to the public without additional appropriate permissions."
Speaking of Sharayah Colter, Ueckert added, "Further, SWBTS received a request from Southeastern Baptist Theological Seminary requesting the return of any documents taken by Dr. Patterson upon his departure from Southeastern. Counsel for SWBTS, Michael Anderson, immediately reached out to counsel for Dr. Patterson, Shelby Sharpe, on May 25 and made inquiry regarding the documents. ...
"The morning after the May 30 Executive Committee meeting, Mr. Sharp provided a few documents he reportedly obtained from Dr. Patterson. The documents clearly dealt with Dr. Patterson's tenure at Southeastern and should have been previously provided in response to Mr. Anderson's May 25 request. Shortly after these documents were provided, the wife of Dr. Patterson's chief of staff published a blog and attached these documents without the permission of the students referenced in the documents or appropriate leadership from SEBTS or SWBTS. I believe this was inappropriate and unethical. Regardless, the additional documents do not alter the decision of the Executive Committee."
Original report: 
Sharayah Colter, wife of Paige Patterson's former chief of staff Scott Colter, has challenged several of the allegations that led to the former Southwestern Baptist Theological Seminary president's firing Wednesday, which she revealed was unceremoniously executed by telephone in the dead of night while he was on assignment in Germany.
Writing in a post on SBC Issues Thursday, Sharayah Colter, who previously worked as a journalist, argued that her husband's former boss, whom she considered a personal friend, is "not guilty of all of which he has been accused in recent days," including encouraging a former student not to report an alleged rape. Seminary officials, she said, did not give him an opportunity to defend himself at the May 30 meeting where the decision was made to fire him.
The board of trustees of the Southwestern Baptist Theological Seminary located in Ft. Worth, Texas, announced Wednesday that Patterson had been fired effective immediately and that they had cut all ties with him after new details, which they did not reveal, emerged about his handling of a sexual abuse allegation while he was president at another institution.
Sharayah Colter revealed that her husband received a call from the chairman of the seminary's board of trustees, Kevin Ueckert, shortly after midnight in Germany on Thursday where Patterson, who was also traveling with his wife, Dorothy, had preached to pastors just hours earlier. Scott Colter was then ordered to rouse his boss from his bed to learn that he was no longer an employee of the seminary.
"After midnight in Germany, while Patterson was sleeping, the chairman of the board of trustees, Kevin Ueckert, ordered Scott Colter to wake Patterson for a phone call. On the call, Ueckert told Patterson he was fired effective immediately, with no salary, no health insurance and no home. He then relayed that Patterson would receive instructions for vacating Pecan Manor upon returning to Fort Worth," Sharayah Colter wrote.
Prior to that, the seminary had taken other steps to cut ties with Patterson and his chief of staff which created difficulty for them in Germany.
"Before the phone call, both Patterson's and Colter's email accounts, including personal contacts and calendar, were shut down without notice and while the three were traveling in Germany on behalf of Southwestern, leaving them without access to itineraries, train tickets, local contact information, hotel confirmation and flight boarding passes," she wrote.
Sharayah Colter also noted that at some point before the termination call was made, the locks to the room on Southwestern's campus housing Patterson's private and personal archives containing ministry materials and documents from Criswell College and the Conservative Resurgence were changed.
"No notice was given, and the Pattersons had no knowledge that this was being done and had not given permission for such," she wrote.
Colter further noted that she was not asked by Patterson to share the details of what happened but said that she simply wants "Southern Baptists, who own Southwestern Seminary and control its work, [to] have a fuller picture of what actually occurred."
"It is regrettable that the trustees did not contact Patterson during their May 30 executive committee meeting to hear any explanation of these accusations before his immediate termination," she said.
Patterson, 75, is accused of encouraging women who are abused by their husbands not to divorce but to pray instead. During a Q&A in 2000, Patterson said he never counseled couples to get a divorce even in abusive situations, but stressed that there were cases in which he advised a temporary separation due to the danger of abuse. He said he even received threats at one point when he helped an abused woman leave her husband.
"... on an occasion during my New Orleans pastorate, my own life was threatened by an abusive husband because I counseled his wife, and assisted her, in departing their home to seek protection. In short, I have no sympathies at all for cowardly acts of abuse toward women," Patterson added.
In an April 29 statement about the controversy surrounding his past comments, Patterson said: "I have also said that I have never recommended or prescribed divorce. How could I as a minister of the Gospel? The Bible makes clear the way in which God views divorce." 
Last month, Patterson was also accused of having reportedly encouraged a female student in 2003 not to report a rape. The woman who revealed herself to be Megan Lively on Monday said she had been raped on campus and that Patterson, then the president of Southeastern Baptist Theological Seminary in North Carolina, urged her not to report it to the police but that she should forgive her alleged assailant.
While Lively told The Washington Post that she met with Patterson and a few other seminarians and was asked to provide details of the rape to them, Sharayah Colter noted that "Patterson says he does not recall meeting with Lively," a position which she suggests is supported by a letter Lively sent to Patterson dated April 15, 2003.
"Finally, thank you for the accountability and for putting me on probation. Even though Dr. Moseley has handled this, I think it is great that the school enforces discipline," the letter said. "At first, I was humiliated and embarrassed. But I know now this is from my own actions and the consequences of those."
Lively appears to refer to "the sin that was in my life" but never mentions being raped.
"I just wanted to write you and first of all apologize. I know that you have been made aware of the sin that was in my life. While I have confessed this to the Lord, repented and sought accountability in my own life, I feel that I have disgraced the school," Lively wrote.
Sharayah Colter noted that "if a rape had indeed been alleged in 2003, and Patterson had known about it, he would have reported it to authorities, as he demonstrated in a different scenario involving a Southwestern Seminary student when he called police even when the student asked him not to do so."
Among other things, she also challenged the allegation that Patterson did not handle appropriately an alleged case of sexual assault against an SWBTS student.
"Patterson immediately called police in response to a female student claiming she had been raped. The accused man admitted to having sexual relations with the woman, but said it was consensual. The man also produced evidence to the police to that effect," she said.
"Southwestern's chief of police can confirm that the Fort Worth Police Department was called and responded. Patterson expelled the male student accused of rape. However, because the female student refused to press charges, Patterson had done all he could by calling the police, expelling the student and encouraging the woman multiple times to press charges," Colter added.
While the seminary did not reveal specific details about the new information shared with their board of trustees on Wednesday, officials said it was "inconsistent with SWBTS' biblically informed core values." They said the revelation also required swift action to cut all ties with Patterson who served as the 52nd president of the Southern Baptist Convention prior to becoming president of the seminary in June 2003.
In her defense of Patterson, Colter wrote: "We serve a God of truth. I have written in the spirit of that truth, and I pray you will receive it in that spirit as well."