Paige Patterson Scandal: Female Alumni Recount 'Toxic' Environment; 2003 Rape Victim Speaks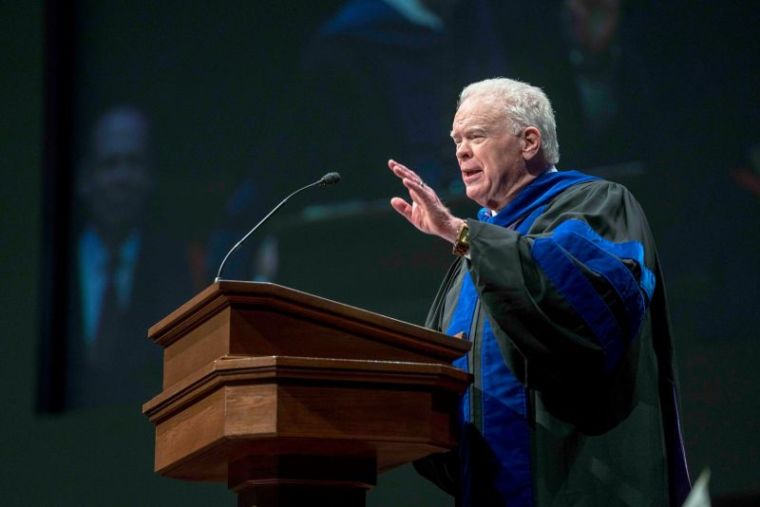 Two female alumni of Southwestern Baptist Theological Seminary have published their stories about how they were mistreated while they were students. And the woman who accused the school's president, Paige Patterson, of urging her not to report her rape in 2003 has publicly identified herself.
April Armstrong, who graduated from SWBTS in 2007, opined in a blog post Saturday that the recent decision by the seminary trustees to make Patterson the president emeritus of the school was not enough given the "unrelentingly abusive environment" women endured while she was a student. A "culture of silence" has continued to enable that abuse, she argued, not only at the Fort Worth-based seminary but in other Southern Baptist institutions.
Armstrong recounted her experience dating a student who was also employed as a security guard that made manipulative moves and exhibited predatory behavior toward her and another female student. When the two women were summoned for an ethics hearing, the chief of security testified that he was inclined to believe the women.
But a high level administrator who presided over the hearing told them they would speak with the predator but that the women would not be informed of the result.
"He warned us further that he knew we'd spoken to people 'on and off campus' about our experiences and that we should stop immediately or else we would face disciplinary action," Armstrong said.
The man who had exhibited predatory behavior was reportedly expelled by the ethics committee for dishonesty, she later learned, only to see that his expulsion was reversed by Patterson. Later that week she was sitting in the front rows of the chapel when the predator along with a group of men she did not know sat in the row behind her.
"He said, loudly and in my direction, that he had met with Paige Patterson and he'd been vindicated, because Dr. Patterson had exercised his authority to unilaterally reverse the decision of the ethics committee," Armstrong wrote.
Patterson had reportedly told him: "It's not like you're on drugs or anything. It's just girls.'"
When she discussed her displeasure with the situation with a professor some time later, the professor's response was that she was in sin for not accepting the decision of "those in authority over you." The man who had acted in a predatory manner was subsequently expelled again, someone told her later, because "he refused to comply with the rules imposed by seminary housing."
Armstrong also reported that she witnessed gross sexism expressed on campus and cowardice on the part of staff to do anything about it. She recalled seeing Patterson walk up to the pulpit, following a solo by a female student during a chapel service, and say that it was good she had worn a skirt down to her ankles or else nobody would have been able to think about anything but her body.
A faculty member told her that he agreed that women were being mistreated at the school but did not want to do anything about it because he was "only a few years away from retirement and I don't want to die on this hill." A man in one of her classes joked that the Greek word for wisdom, sophia, ought not be in the feminine since "no woman is wise" and the instructor did not respond except to shrug at her sheepishly, the only female in the room.
A close female friend was supposed to give a sermon for an expository preaching class and the instructor told all the male students not to show up to hear it but sent his wife instead to take notes so he would not hear it either, grading her sermon based on his wife's notes.
Armstrong also recounted that despite her high GPA and academic achievements, her accomplishments went largely unnoticed. She would go on to obtain a doctorate from Princeton University.
In a Monday blog titled "Surviving SWBTS — Life As A Female Employee and Student In A Pattersonian Culture," Diane Montgomery detailed of her experiences while a student.
"The leadership and administration reminded me of all the characteristics of 'church people' that turned me off of the gospel in my younger years. Arrogance, hypocrisy, narcissism, and the 'Good Ol' Boys' club mentality permeated most every part of the SWBTS culture to which I was exposed," Montgomery wrote of the "toxic" school environment.
"The Patterson's were to be feared and obeyed – or risk suffering the consequences. You were either in line with Patterson's 100% or you were the enemy. It was an environment of fear and intimidation."
During her time at SWBTS they saw many budget cuts and layoffs and the closing down of important programs. Yet at the same time students regularly saw Paige and Dorothy Patterson "driving Escalades, hosting fancy dinner parties and luncheons, enjoying private chefs, traveling the world at the seminary's expense and living comfortable lives while the students were suffering, losing jobs, and some employees were barely able to put food on the table for their families."
Like Armstrong, she recalled hearing Patterson make sexist remarks from the pulpit. In one such chapel service sermon in 2010, she heard the SWBTS president say that "It shouldn't be any wonder why some of you don't get a second look." The SWBTS website reportedly had a video of Patterson saying that, but the video stopped working after the story came out.
"I witnessed the aftermath of those comments and saw the hurt caused for so many women on campus. The disrespect he showed to his sisters in Christ that day offended many of us deeply, but we never saw any repentance for his hurtful and careless speech. This was a running theme throughout my years and interaction with Dr. Paige Patterson."
On another occasion, while working for the school, Patterson's secretary pulled her aside to rebuke her for her immodest dress, that she had to go home and change clothes.
"I was wearing a loose, long sleeve dress and knee-high boots that met the strict dress code requirements for female school employees (knee-length skirts and dresses only)," Montgomery said.
"The only parts of my body showing were my neck and my knees. She criticized me for dressing so immodestly and told me words I would never forget, 'I don't know what it is about men and knees, but they have a thing for knees. You need to leave and go home and change now.'"
She left that conversation feeling "ashamed, demoralized, and like a hussy." Other similar instances in this "modesty culture" made her feel as though she was "purposefully trying to cause men to lust" when she had been doing her best to honor God through her dress.
Montgomery expressed gratitude for the role Dorothy Patterson, wife of Paige Patterson, played in her theological formation, and noted that she never encountered any rudeness or discrimination in the classroom from professors because of her sex. She did, however, observe other women being treated with disrespect.
And during her last year at the seminary she was awarded a scholarship that was to entail personal one-on-one meetings with Ms. Patterson, but those meetings morphed into her "becoming wait staff, serving hors d'oeuvres in the dining room corner at parties where Mrs. Patterson barely offered me a nod."
"When you entered their door, you were given the perfect smile, the perfect greeting, but behind closed doors you heard the snaps at staff, the criticism, and the lack of grace and love shown towards those deemed less important than the big names and big pockets invited to the events," she said.
"While I had many wonderful experiences during my time at SWBTS, the hurt caused by the words and actions of Dr. and Mrs. Patterson will forever be in my and many others' memories. The culture they created on that campus has damaged the gospel to a watching world and hurt many brothers and sisters in Christ."
The Christian Post reached out to Charles Patrick, the vice president for strategic initiatives and communications at SWBTS for response to the content described in the blogs but did not hear back by press time.
Patterson is scheduled to give the keynote sermon at the annual meeting of the Southern Baptist Convention in Dallas in mid-June, which is considered a high honor in the Convention. Some have urged him to withdraw in light of the controversy.
Prior to the meeting of the trustees last Tuesday where it was ultimately decided that Patterson would no longer serve as SWBTS president, a Washington Post story emerged of a woman who said she had been raped on campus and that Patterson, then the president of Southeastern Baptist Theological Seminary in North Carolina, urged her not to report it to the police but that she should forgive her alleged assailant.
Megan Lively of Wilson, North Carolina identified herself as the woman Tuesday evening on Twitter, stating that "I am the woman you read about, #SEBTS 2003, not afraid, ashamed, or fearful."
"I am proud to be #SBC, bc of how many have responded with compassion & love. Our history isn't our future. Ephesians 4:30-32, Romans 8. Please join us in praying tomorrow. #PaigePatterson #sbc18 #matthew5"
She subsequently tweeted in response to encouragement from teacher and author Beth Moore that she and her husband had forgiven Patterson over the weekend and a "huge weight has been taken off my shoulders."
Saturday, Pastor Wade Burleson, who has been active in exposing much of the Patterson scandals on his blog, accused a Patterson associate of stealing archived SWBTS documents in 2003 related to Patterson's tenure there. Those records would apparently include evidence of the crime against Lively. Kevin Ueckert, chairman of the SWBTS trustees, reportedly told Lively that he must have that documentation before the trustees will consider the allegations that Patterson failed to take any appropriate actions after she reported her rape.