Alabama Pastor Rick Patrick Apologizes for Mocking #MeToo Movement With 'Gang Rape' Joke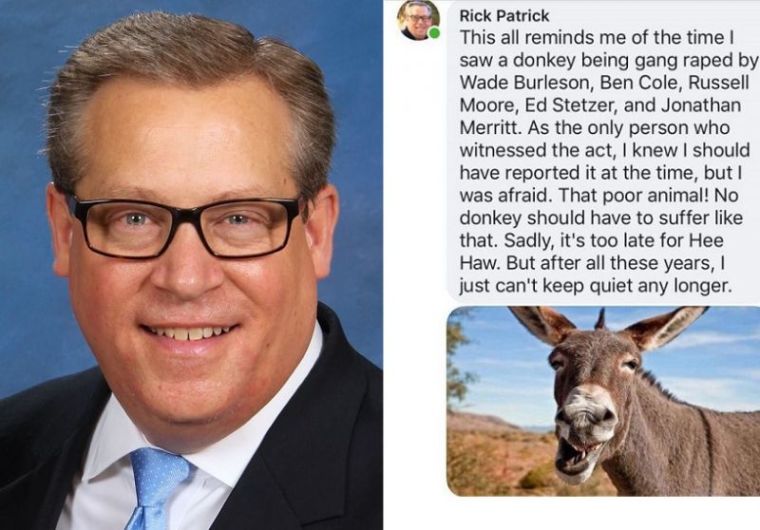 Rick Patrick, an Alabama pastor, publisher of SBC Today and executive director of the Connect 316 ministry, has apologized for a Facebook post mocking prominent evangelical supporters of women as the #MeToo movement rises in churches.
Patrick's post came as prominent Southern Baptist leader Paige Patterson stepped down as president of Southwestern Baptist Theological Seminary on Tuesday amid his controversial remarks about domestic violence and divorce. The Washington Post also reported fresh allegations Tuesday that Patterson encouraged a woman who said she had been raped not to report it to the police and told her to forgive her alleged assailant.
In his controversial tweet which is now being heavily circulated online, Patrick appears to take aim at evangelicals who have been vocal supporters of women in light of the Patterson controversy, including ERLC President Russell Moore; Wade Burleson, lead pastor at Emmanuel Baptist Church in Enid, Oklahoma, and Ed Stetzer, who is Billy Graham Distinguished Chair at Wheaton College in Wheaton, Illinois.
"This all reminds me of the time I saw a donkey being gang raped by Wade Burleson, Ben Cole, Russell Moore, Ed Stetzer, and Jonathan Merritt. As the only person who witnessed the act, I knew I should have reported it at the time, but I was afraid. That poor animal! No donkey should have to suffer like that. Sadly, it's too late for Hee Haw. But after all these years, I cannot keep quiet any longer," Patrick tweeted with the picture of a donkey.
Responding to the tweet Tuesday, Burleson, Moore and sexual assault survivors quickly reacted.
"That is sick. I want to puke. Rick Patrick, may God forgive you. One of these days maybe you'll have the good fortune of meeting a woman who has actually been raped - or even worse," Burleson responded on a Twitter thread.
"Some of the strongest women I've ever met are those who've overcome awful violations of their body by discovering God gives to them an identity that rises above men who profane, denigrate, and abuse them. Wow. I'm speechless," he added.
"Wade is correct," added Moore. "This is unconscionable."
In an op-ed for The American Conservative late Tuesday, Rod Dreher questioned how Patrick would explain his comments to the women of his church.
"What is wrong with Paige Patterson, Rick Patrick, and men like them? What kind of Jesus do they serve? Shame on them. The anonymous woman in the Post story said she only told her husband last week about her rape. If that was the rape of my wife — or sister, or daughter — that Rick Patrick was talking smack about..." he wrote. "How will the women in Rick Patrick's church take a word he says seriously after that? What kind of example is he for the boys and men of the church? And Paige Patterson, what kind of example is he?"
Reacting to the firestorm over his comments, Patrick quickly apologized for his "poor attempt at satire."
"Earlier today in a closed Facebook group, I made a poor attempt at satire and the crazy climate of our #MeToo world where accusations from years ago are dredged up and used as weapons to attack people. I attempted to use hyperbole and exaggeration to show that anyone can make even the most heinous charge against someone else, and the person charged will always be presumed guilty until proven innocent," he wrote.
"The post only remained up for about two minutes when I took it down realizing it was a poor and inappropriate attempt at humor, but by that time, certain people had already taken a screenshot and it had gone viral. I apologize to the people whose names I mentioned and for the reference to the donkey. It was wrong and inappropriate. I will not post anything like it again. I especially apologize to anyone who felt I was minimizing the reality of the genuine pain many victims have experienced. Even preachers make mistakes, and I made one today. I am truly sorry. Please forgive me," he ended.
Late Tuesday night he asked for forgiveness again as he further explained himself in a discussion thread on the Facebook page of A Cry for Justice, a blog about domestic violence and abuse in the evangelical church.
"The issue I was addressing was the notion that a person appears to be, in the court of public opinion, guilty until proven innocent, in many cases. No, I do not think that #metoo people are crazy. I confess the timing of a specific charge today made me question the charge. But please let me say, and say very clearly, that I am deeply sorry for the hurt that victims of abuse have experienced. I myself was the victim of physical and verbal abuse as a child. I am indeed sensitive to their pain. I was intending to speak only to the presumption of guilt issue with my inappropriate use of humor. I am truly, truly sorry. I will learn from this, and it will not happen again. Please forgive me," he wrote.
After reading Patrick's apology, Burleson said he was convinced the preacher is sorry and accepted it.
"I read Rick Patrick's online apology for his offensive tweet that mentioned me and others by name. For the record, I forgive Rick Patrick. #RickPatrick #RepentanceAppreciated #Forgiveness," he tweeted.
Also reacting to Patrick's apology, Dreher wrote, "Good for you, Pastor. God bless you for your repentance. I am someone who posts in anger and haste from time to time, and I am grateful for forgiveness when people offer it."