Paige Patterson to Step Down as President of Seminary Following Spousal Abuse Comments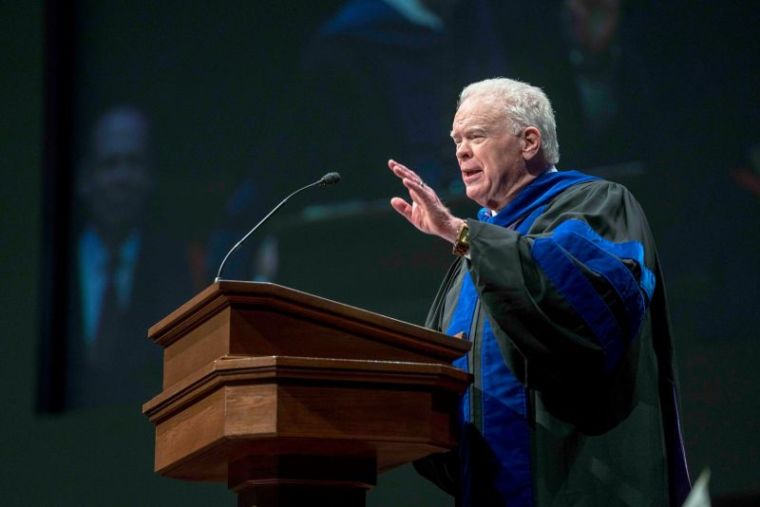 Former Southern Baptist Convention President Paige Patterson has agreed to resign from his position as head of Southwestern Baptist Theological Seminary amid various controversies, including comments he made years ago where he appeared to endorse having abused wives remain with their husbands.
"After much prayer and a more than 13-hour discussion regarding challenges facing the Institution, including those of enrollment, financial, leadership and institutional identity, the Board determined to move in the direction of new leadership for the benefit of the future mission of the Seminary," stated SWBTS in a statement released Wednesday morning.
Patterson has accepted a "president emeritus" position with the seminary and will be allowed to live on campus as a theologian-in-residence along with his wife. 
"The Southwestern Baptist Theological Seminary (SWBTS) board of trustees is grateful for the contributions Dr. and Mrs. Paige Patterson have made since his presidency began in 2003." 
Patterson first garnered controversy when the Baptist Blogger posted in April audio of an interview Patterson did in 2000 in which he commented on the question of whether wives should submit to their husbands, even when they are abusive.  
"It depends on the level of abuse to some degree. I have never in my ministry counseled that anybody seek a divorce, and I do think that's always wrong counsel," said Patterson in the audio recording.
"There have been, however, an occasion or two when the level of the abuse was serious enough, dangerous enough, immoral enough that I have counseled temporary separation and the seeking of help. I would urge you to understand that that should happen only in the most serious of cases."
Patterson cited a specific example where decades ago he had discouraged a woman from leaving her abusive husband and instructed her to pray for him. 
The recording generated much backlash, with many SBC leaders and women taking issue with his comments and eventually demanding his resignation as president of SWBTS.
Evangelist Beth Moore, founder of Living Proof Ministries, denounced the idea that divorce was not a remedy for spousal abuse. 
"I'm pro marriage. Nearly 40 years of ups and downs to back that up. But when we as a church culture demonize divorce as the worst possible outcome - the sin of all sins - we truly have no clue on this ever loving earth what some people are enduring. We do not submit to abuse. NO," tweeted Moore, her comment getting over 22,000 likes.
A petition was created and quickly signed by more than 2,000 people, mostly women, calling for Patterson to resign.
"We cannot defend or support Dr. Patterson's past remarks. No one should. The fact that he has not fully repudiated his earlier counsel or apologized for his inappropriate words indicates that he continues to maintain positions that are at odds with Southern Baptists and, more importantly, the Bible's elevated view of womanhood," read the petition.
Prominent SBC leaders like LifeWay CEO Thom Rainer and Ethics & Religious Liberty Commission President Russell Moore also denounced Patterson's comments.
"A woman being abused should leave the house and call the police. The state should prosecute the abuser and the church should discipline him," tweeted Moore.
"Marriage as a picture of the Christ/church mystery (Eph. 5:32) means that spousal abuse is not only cruel and unlawful, but is all that and also blasphemous against a Christ who loves and sacrificed himself for his Bride."
Patterson initially defended his comments, arguing that he has "never counseled or condoned abuse of any kind."
"I will never be a party to any position other than that of the defense of any weaker party when subjected to the threat of a stronger party. This certainly includes women and children," stated Patterson.
"Any physical or sexual abuse of anyone should be reported immediately to the appropriate authorities, as I have always done."
Patterson also said that while he never counsels a woman to get a divorce, he does make an effort to support separation and, according to him, he even received threats at one point when he helped an abused woman leave her husband.
"... on an occasion during my New Orleans pastorate, my own life was threatened by an abusive husband because I counseled his wife, and assisted her, in departing their home to seek protection. In short, I have no sympathies at all for cowardly acts of abuse toward women," Patterson added.
Other comments from Patterson began to surface, however, including some made in January 2014 where he expressed approval of a young boy's comments about an attractive 16-year-old girl being "built." 
Patterson later apologized, saying, "I wish to apologize to every woman who has been wounded by anything I have said that was inappropriate or that lacked clarity. We live in a world of hurt and sorrow, and the last thing that I need to do is add to anyone's heartache. Please forgive the failure to be as thoughtful and careful in my extemporaneous expression as I should have been." 
Others, meanwhile, came to his support with their own petition.
In its Wednesday statement, the SWBTS Board of Trustees affirmed a motion stating "evidence exists that Dr. Patterson has complied with reporting laws regarding assault and abuse." The board also made clear that the seminary "stands against all forms of abuse." 
The statement comes just after The Washington Post released an article Tuesday in which a woman alleges that Patterson discouraged her from going to the police after she was raped. The rape, she said, occurred in 2003 while she was a student at Southeastern Baptist Theological Seminary in Wake Forest, N.C., when Patterson was president.   
Another part of the controversy that was discussed during the SWBTS Board of Trustees meeting on Tuesday was Patterson's decision earlier this month to fire SWBTS Ph.D. student Nathan Montgomery from a catering manager position at the school and revoke his tuition break after Montgomery endorsed on social media an article calling for Patterson to resign.
Montgomery appealed the decision.
In its statement announcing Patterson's resignation, the seminary board noted that they have "not found evidence of misconduct in Nathan Montgomery's employment file."
D. Jeffrey Bingham, dean of the School of Theology, has ben appointed to serve as interim president and a special committee was formed to aid in leadership transition.
"As we begin the process of ushering in a new season of leadership, SWBTS remains steadfast in its calling to assist the churches of the SBC by biblically educating God-called men and women for ministries that fulfill the Great Commission and glorify God," the board said.