So. Baptist Head Steve Gaines Asks for 'Forgiveness' Over Paige Patterson Controversy: 'The Church Is No Place for Misogyny'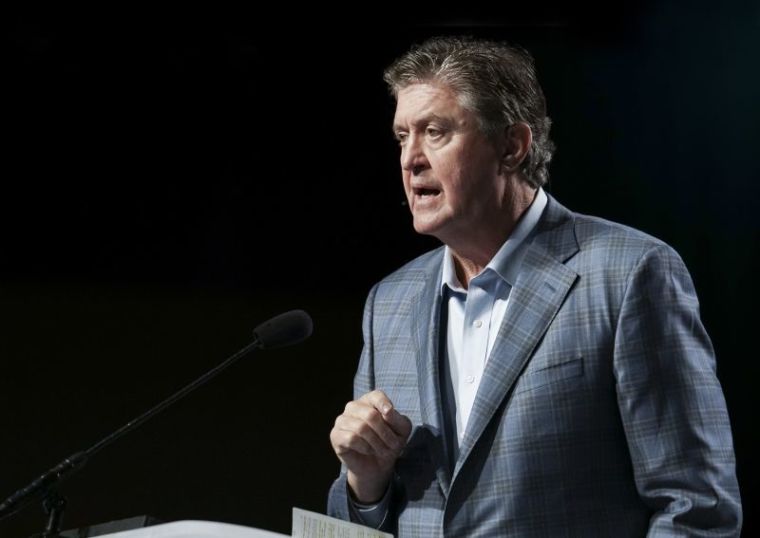 Southern Baptist Convention President Steve Gaines has asked for "forgiveness" on behalf of the entire convention and explained why he can't remove controversial Southwestern Baptist Theological Seminary President Paige Patterson as a speaker at this year's SBC annual meeting in Dallas.
Gaines, an alumnus of SWBTS and the pastor of Bellevue Baptist Church in Memphis, issued a public statement in response to past controversial statements made by 75-year-old Patterson about women, abuse and divorce. Thousands of evangelical women are calling on him to step down.
"I praise God for the leadership [Patterson] gave to the SBC during the Conservative Resurgence. I am also grateful for his leadership at my alma mater, Southwestern Baptist Theological Seminary," Gaines said in a statement Friday. "I have talked with him in person and by phone regarding his comments and told him that I disagree with the counsel he gave to a woman who was married to an abusive husband."
Late last month, a clip from an interview from 2000 that Patterson did with the Council on Biblical Manhood and Womanhood was posted to a Baptist blog. In the interview, Patterson voiced that he thinks it is "wrong" to counsel women who are abused by their husbands to seek a divorce unless the level of abuse is "serious enough." Patterson cited a specific example where decades ago he had discouraged a woman from leaving her abusive husband and instructed her to pray for her husband.
Additionally, many have also taken offense to a video that shows Patterson explaining during a 2014 sermon in Las Vegas how he once defended a young boy who was punished by his mother for stating out loud that an "attractive" teenage girl who walked by him was "built." Patterson said he told the mother that her son was "just being biblical" with his description of the girl.
"Regarding Dr. Patterson's more recent remarks about a teenage girl, I believe they were improper," Gaines stated. "While I love him and appreciate him, I disagree with what he said. Preachers should never refer to women in any way that could be considered demeaning. SBC pastors must do everything we can to protect all women from being subjected to any form of abuse."
Patterson's fate will be decided at a SWBTS special board meeting on May 22.
"On behalf of the SBC, I ask for the forgiveness of all women who have been hurt by these comments and the issue of ill treatment of women within churches in particular. I believe we should esteem and regard women in the same way Jesus did during His earthly ministry," Gaines added. "Women are created in the image of God and are of great value and worth. The church especially is no place for misogyny or disrespect for anyone."
While some have called on Gaines to stop Patterson from preaching a scheduled sermon next month at the SBC annual meeting in Dallas, Gaines explained in his statement that he does not have the power to do that.
"The SBC president does not have the authority to make that decision. Neither does the SBC Committee on Order of Business," Gaines noted. "It was the messengers of the 2017 SBC meeting that selected Dr. Patterson to preach the 2018 Convention Sermon."
Gaines explained that there are only two scenarios that can prevent Patterson from preaching the convention sermon. The first would require the SBC messengers to vote at the meeting to stop Patterson from giving a sermon. The other option would be for Patterson to willingly give up his sermon time at the convention.
Should either of those two things happen, the alternate speaker would be Kie Bowman, a senior pastor of Hyde Park Baptist and The Quarries Church in Austin, Texas.
Last Thursday, Patterson offered an apology.
"Pastoral ministry that occurred 54 years ago, repeated as an illustration in sermons on more than one occasion, as well as another sermon illustration used to try to explain a Hebrew word (Heb. banah 'build or construct,' Gen. 2:22) have obviously been hurtful to women in several possible ways," he said in a statement published on the SWBTS website. "I wish to apologize to every woman who has been wounded by anything I have said that was inappropriate or that lacked clarity. We live in a world of hurt and sorrow, and the last thing that I need to do is add to anyone's heartache. Please forgive the failure to be as thoughtful and careful in my extemporaneous expression as I should have been."
As 2018 marks the 100th anniversary of women being messengers to SBC's annual meeting, Gaines prays that there will be a "renewed commitment to honoring women and their contributions to our churches and convention."
This year marks the 100th anniversary of women being messengers to the SBC annual meeting. It is my prayer that this year will also mark a renewed commitment to honoring women and their contributions to our churches and convention.
As The Christian Post has reported, there are other allegations that also surround Patterson, including the firing of an SWBTS employee who retweeted a recent article urging Patterson to step down.
Additionally, a 1991 Dallas Morning News article has re-emerged that alleges that Patterson, while serving as president of a Bible college, helped promote preacher Darrell Gilyard at a Bible college despite the fact that several women accused Gilyard of sexual misconduct and abuse.
Some have come out in support of Patterson, including Samuel L. Schmidt, pastor of Edgewood Baptist Church in Nicholasville, Kentucky, who believes "this is a coup to forcibly remove Dr. Patterson from his position at Southwestern Baptist Theological Seminary by discrediting his ministry, from outside sources who are now putting pressure on you, as trustees ... due to decades old vendettas and other personal reasons."
A petition was also started in support of Patterson. So far, 550 people have signed it.