Exclusive Sneak Peek: in 'A.D. The Bible Continues,' Saul Asks for Forgiveness in New Episode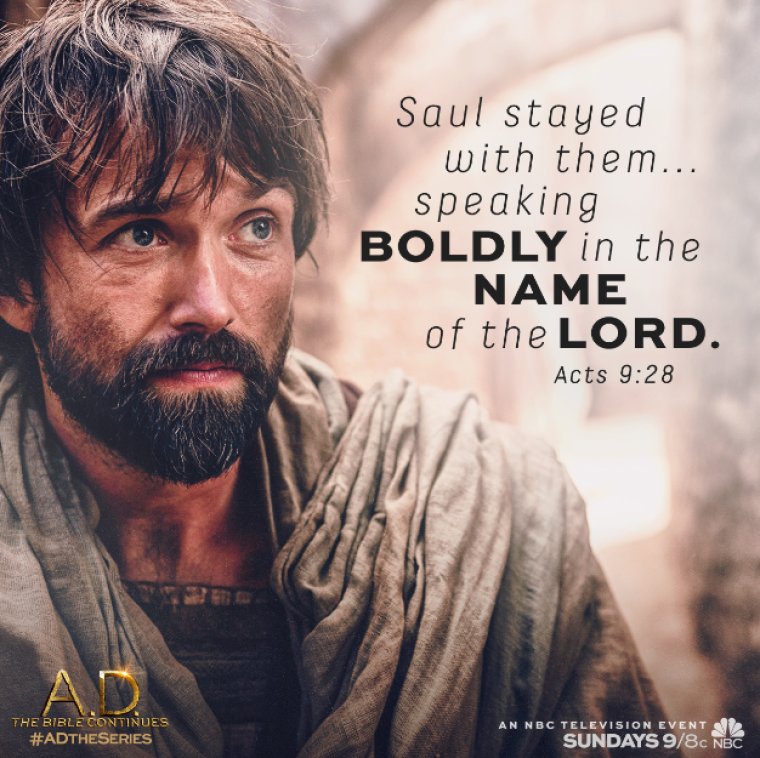 A sneak peek at the upcoming episode of "A.D. The Bible Continues" that will air Sunday reveals the moment Saul received forgiveness and joins the disciples.
The latest television series from producers Mark Burnett and Roma Downey follows the rise of the church in the first 10 chapters of the book of Acts. An exclusive clip from the brand new episode nine is now available on The Christian Post, starting with a quote from Acts 9:26.
"He tried to join the disciples, but they were all afraid of him, not believing that he really was a disciple," the preview for this Sunday's episode begins.
The scene from "A.D. The Bible Continues" then reveals a plea from Saul to Peter.
"All I've ever done is hurt you Peter. Jesus should have struck me down, but He didn't, He forgave me," Saul says in the clip. "And I must beg you for your forgiveness too. Has He never had to forgive you for anything Peter?"
Toward the end of the clip, Saul's words have a visible impact on Peter, who did receive Jesus' forgiveness for denying knowing Him three times.
The brand new ninth episode of "A.D. The Bible Continues" will also see Emperor Caligula make a demand that his statue be placed in the temple.
With just three episodes left in the 12-part television series, Burnett and Downey also offered a recap of the season before sharing a glimpse of the "dramatic" finale ahead during an interview with CP.
"So far we've witnessed the death and the resurrection of Jesus, the disciples restored by His return, and the epic arrival of the Holy Spirit at Pentecost," said Burnett.
"And now, Peter, John, and the disciples spread the gospel across Judea, they are met with increasingly brutal persecution by those that will stop at nothing to silence them," Burnett's wife, Downey, added.
"Join us this Sunday, you won't want to miss what is about to happen as we race towards the dramatic season finale," Burnett concluded.
"A.D. The Bible Continues" episode nine will air at 9 p.m. ET Sunday, May 31 on NBC. The encore of last week's episode eight will air directly before the new installment. Watch the exclusive clip here.
After each episode of "A.D." fans can tune into NBC's first-ever digital talk show, "Beyond A.D," hosted by Jason Kennedy.