Family of Michael Brown Sues City of Ferguson, Police Officer Darren Wilson; Seeking $75,000 Damages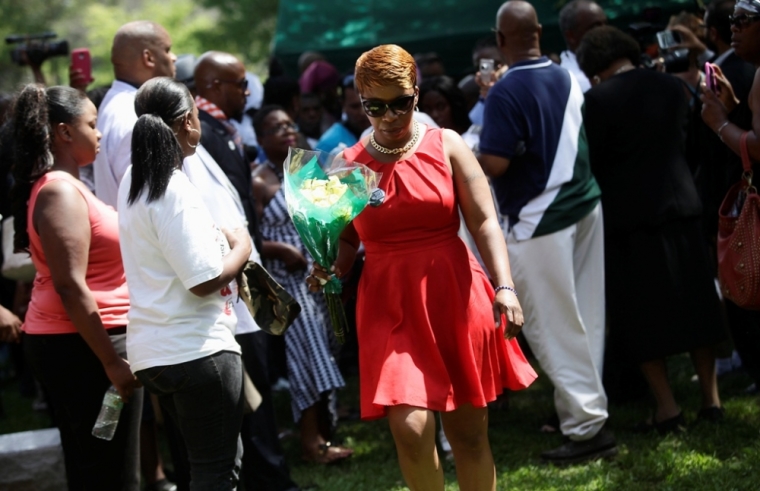 The parents of Michael Brown filed a wrongful-death lawsuit again the city of Ferguson on Thursday, which could potentially open a new investigation into the late teen's death.
Attorneys for the Brown family said the civil lawsuit could bring to light new evidence in the case that could disprove police claims that white officer Darren Wilson was justified in fatally shooting the unarmed teen. Wilson, along with former police chief Thomas Jackson, is also named in the lawsuit which seeks $75,000 in damages.
"The narrative of the law enforcement all across the country for shooting unarmed people of color is the same: That they had no other choice," attorney Benjamin Crump said. "But time and time again, the objective evidence contradicts the standard police narrative."
On Aug. 9, 2014, Wilson fatally shot Brown, an African-American teenager, during a violent encounter. The case sparked racial unrest around the nation, and in Nov. a St. Louis grand jury cleared the six-year veteran officer of wrong doing which heightened tension between protesters and police.
"Wilson's own testimony is that Mike Brown Jr., had his hands up as he was moving towards him," said Brown family attorney Anthony Gray at a press conference."There is forensic and physical evidence in this case ladies and gentlemen that totally contradicts what we have characterized as a concocted version of events from the very beginning."
Wilson "unjustifiably shot and killed (Brown), using an unnecessary and unreasonable amount (of) force in violation of (Brown's) constitutionally guaranteed right to life," the lawsuit states.
Jackson, who resigned last month, is named because he "maintained general supervision" of Wilson and "was also responsible for his hiring, training and retention," according to the lawsuit.
The lawsuit comes more than one month after the U. S. Department of Justice cleared Wilson of civil rights violations in Brown's shooting death after finding that he shot Brown in self-defense. The FBI concluded an independent investigation into the case and also found no evidence to support bringing criminal charges against Wilson, who resigned in Nov.
The family of Brown previously expressed their heartfelt disappointment after Wilson was cleared of wrongdoing by a St. Louis jury.
"We are profoundly disappointed that the killer of our child will not face the consequence of his actions. While we understand that many others share our pain, we ask that you channel your frustration in ways that will make a positive change. We need to work together to fix the system that allowed this to happen," a Brown family statement read. "Join with us in our campaign to ensure that every police officer working the streets in this country wears a body camera. Answering violence with violence is not the appropriate reaction."
Brown's official county autopsy revealed the unarmed teen was shot in the hand at close range and that ultimately he suffered six gunshot entrance wounds. The findings also supported Wilson's claim that Brown grabbed for and had his hand on the officer's gun at one point during a struggle inside the police vehicle.