'Fast & Furious' Actor Paul Walker Dies in Fiery Crash Saturday After Being Declared Dead in Cruel Hoax Friday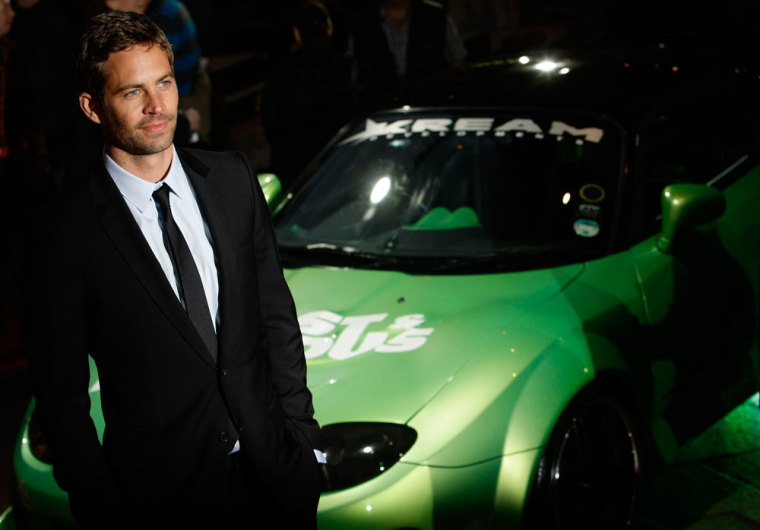 Popular actor and a star of the "Fast & Furious" movie franchise Paul Walker, who was rumored to have been killed in a cruel hoax on Friday, died for real in an explosive car crash Saturday, according to his official social media accounts and his publicist. He was 40.
"It's with a heavy heart that we must confirm Paul Walker passed away today in a tragic car accident...MORE," read a tweet posted through his verified Twitter account at 9:14 p.m. Saturday.
It also directed the star's nearly 900,000 Twitter followers to a fuller comment on his Facebook account issued to nearly six million fans.
"It is with a truly heavy heart that we must confirm that Paul Walker passed away today in a tragic car accident while attending a charity event for his organization Reach Out Worldwide," noted the post.
"He was a passenger in a friend's car, in which both lost their lives. We appreciate your patience as we too are stunned and saddened beyond belief by this news. Thank you for keeping his family and friends in your prayers during this very difficult time. We will do our best to keep you apprised on where to send condolences," it explained further.
Walker's death took many fans by surprise and was initially dismissed as a hoax as rumors had been swirling since Friday that the actor was dead.
The Santa Clarita Valley Signal in California reported that Walker died in Santa Clarita's affluent Valencia neighborhood. He was reportedly a passenger in a red Porsche sports car that crashed then caught fire about 3:30 p.m. on Hercules Street near Constellation Road in the Rye Canyon Business Park.
Photos taken at the scene shows a mangled ball of metal.
Officials from the Sheriff's Department in the area did not confirm Walkers death in the Signal's report, noting only that the Los Angeles County Coroner's office would determine the identities of the two people who died in the crash.
A witness at the crash site, who said he was the actor's friend, told the Signal that he tried to help and said he saw Walker inside the vehicle.
"Him and his buddy, his brother in arms at heart just decided to joyride, take a spin. Something we all do. We're all car enthusiasts. ... We're all here driving, enjoying each other, and God must've needed help," said Antonio Holmes.
"We all heard from our location (the accident). It's a little difficult to know what it was. Someone called it in and said it was a vehicle fire. We all ran around and jumped in cars and grabbed fire extinguishers and immediately went to the vehicle. It was engulfed in flames. There was nothing. They were trapped. Employees, friends of the shop. We tried. We tried. We went through fire extinguishers," said Holmes.
The dead actor reportedly has ties to a business in the area called Always Evolving Performance Motors and was in the area to support a toy drive and car meet, it was hosting on Saturday.
Bill Townsend, entrepreneur and chairman of Amati Foundation, also confirmed Walker was in town for the charity event and supported the business in a post on the star's facebook page.
"I was with Paul today. He was surrounded by friends, talking about cars, seeing hundreds of gifts brought for kids to give out by charity. The news is terribly sad. The world lost an angel and Heaven gained one. I'm going to commit to helping ensure the Paul's charity lives on and that his love of cars and people, especially children, will be remembered forever," he noted.