Father of 4 experiences 'miracle' recovery after hospital unplugs life support, family starts planning funeral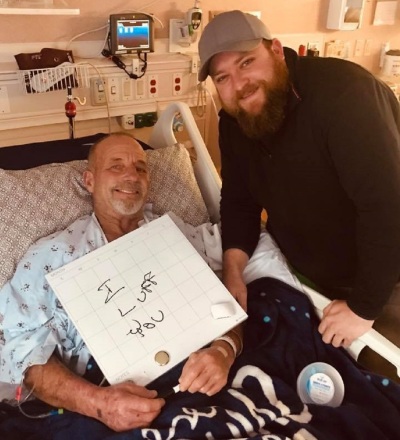 Scott Marr, a former Nebraska sports announcer who was so close to death his family started making plans to cremate his body after doctors pulled the plug on his life support, is now thanking God for the "miracle" that led to his stunning recovery.
"This whole thing has been a miracle from God. I did not die, I don't have to die. I'm back here, and I hope to give people some comfort and hope that if they are in fact going through anything like that, that it's [a] safe place," he told KMTV.
"I'm not an extremely religious person. I don't go to church every Sunday, but I do believe in God. I believe with all my heart. And now this is just proof for me that everything I've ever heard is true," he added in an interview with The Epoch Times. "That He loves me. That He's right there for me. It was pretty much a miracle."
Marr suffered what first appeared to be a major stroke that left swelling in his brain on Dec. 12.
"We thought that this wasn't a recoverable process," Dr. Rebecca Runge, a hospitalist at Methodist Hospital in Omaha told The Epoch Times.
And the Facebook page of Scott's daughter, Preston Marr, showed that as far as she knew her father's time on Earth was over.
"What am I supposed to do without you," she wrote on Dec. 13, with a photo of herself and her father as friends and family shared thoughts and prayers and condolences.
"So sorry for your loss!" Charles Scott Gorden wrote in reply.
In an extended Facebook post about her father's experience on Dec. 16, Preston Marr, who is a registered nurse, said: "We were told he had a massive brain stem stroke with an associated swelling leading to anoxic brain injury. Each thing is detrimental alone and all combined is not survivable."
She further noted: "We were then told he was close to brain-dead and given a few different options by a very trusted neurosurgeon that has also been a family friend for years. In his words 'I know T Scott and if there was ANYTHING I feel that we could be doing to fix this, I would be doing it.'"
Preston explained that the family discussed organ donation and made the decision to remove her father from life support because he wasn't breathing on his own. They did not want to drag out a situation that seemed impossible and Scott had previously told his family, "I never want you guys to see me lying in a hospital bed, lying in a nursing home."
"We were told he would pass quickly, possibly in minutes, as far as they knew. After being extubated he continued to breath on his own, with his O2 constantly staying above 90 percent, and as the wee hours of the night came we thought it best for us to all go home and try to get some rest and be with family as we were trying to mourn our loss," Preston wrote.
"We asked the nurses to call us with any updates as we could be there in just minutes if there was a decline ... as Thursday came around and we were planning to pick a mortuary for cremation we instead decided to go back to the hospital to be with him again. As we were on our way our aunt said she felt he was more responsive. When we get there, LET US TELL YOU ... never felt anything like that in our entire lives," she wrote.
Scott, 61, was up and talking.
Further tests would later reveal that instead of a stroke, Scott had suffered a condition called Posterior reversible encephalopathy syndrome, or PRES, likely caused by high blood pressure.
He told KMTV that during the two days he was thought to be dead he dreamed that he saw his deceased father walking along a local street.
"He said, 'What are you doing here?' And I said, 'I'm looking to work.' And he said. 'There's no work here, you better get your butt home,'" Scott said.
The dream, he said, was a sign that his time on Earth isn't done.
"You guys and then the team all worked together as a team to save my life. And now here I am and watch me get hit by a bus," he quipped.