Father's Day as Hate Speech? Feminism, Gay Rights Contribute to Fatherlessness, Experts Say at CPAC
National Harbor, Md. — Two marriage experts argued that feminism and gay rights are contributing to the problem of fatherlessness at a Conservative Political Action Conference panel.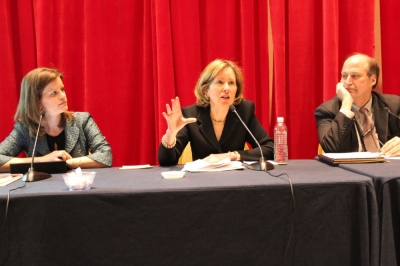 Father's Day may one day be considered hate speech because saying that children need fathers has become offensive to the gay rights agenda, Heather Mac Donald, the Thomas W. Smith Fellow at the Manhattan Institute and a contributing editor of City Journal, argued on the Friday panel, "The Future of Marriage in America."
The panel was moderated by Kate Bryan of the American Principles Project. Mac Donald was joined by Wade Horn, former assistant secretary for Children and Families, and Jennifer Marshall, vice president of the Institute for Family, Community, and Opportunity at The Heritage Foundation.
Marriage matters because children need a mother and a father, the panelists agreed, and a number of social ills, including income inequality, can be attributed to the high number of single mothers. Over 40 percent of children are now born to an unwed mother. And while teen pregnancies have actually declined in recent years, there has been an increase in 20-something women bearing children out of wedlock, Mac Donald noted.
Part of the problem, Mac Donald said, is that "feminism has played a strong role in discrediting the importance of fathers." Additionally, the Gay Rights Movement has a "silencing agenda" against those who point out the importance of fathers.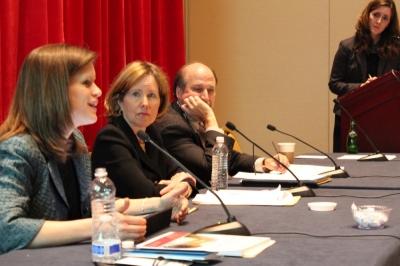 "Even though I completely understand and support the impulse of gays to get married, that's going to be the final nail in the coffin [of respecting the importance of fathers]," she said. "I predict there will come a time when Father's Day is considered hate speech because it means that you're dissing the lesbian couple."
Mac Donald recalled when she was invited to speak as the "token conservative" at a "very left wing foundation." The topic was inequality and she was speaking about the importance of marriage and mothers. As she was speaking, "people in the room were very, very uncomfortable and nervous, shifting in their seats." The keynote speaker, general counsel for New York City Mayor Bill de Blasio, then got up and said, "we have to value the diversity of all families," Mac Donald recalled.
"Well, that's a good sentiment, of course we should, but that statement has a very large agenda, and a silencing agenda as well, and that's where we're moving towards. To say mothers and fathers are important is going to be seen as a blow against valuing the diversity of all families," she said.
Marshall added that she agreed, "and it's extremely significant."
As the Gay Rights Movement redefines marriage to include same-sex couples, fathers will be considered optional for the raising of children, she argued.
"For all the good work that Wade Horn and others have done over the years to encourage responsible fatherhood — commit to your children by marrying the mother of those children — it is going to be very hard to say that fathers are essential if the law says they are optional through the redefinition of marriage. So I think that's a very serious challenge that we face," she said.