Federal Judge Uses 'Wrong Side of History' Argument in Striking Down Florida Marriage Law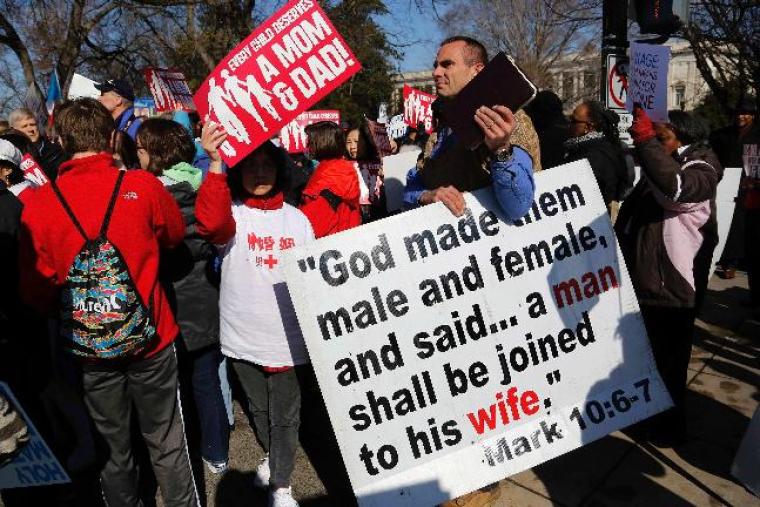 Even though the citizens of Florida voted in a 2008 referendum to define marriage as between one man and one woman in their state's constitution, yet another federal district judge has ruled that amendment is unconstitutional because it does not let Floridians marry someone of their same gender.
U.S. District Judge Robert L. Hinkle came to the same conclusion Thursday as judges from four other districts in Florida previously found. Hinkle ruled that labeling marriage as only "between a man and a woman" was in violation of 14th Amendment of the U.S. Constitution as it does not provide a guarantee of equal protection and due process under the law.
In his reasoning, Hinkle used the frequently used argument that same-sex marriage is inevitable, or, as some same-sex marriage supporters put it, opponents are on the "wrong side of history."
"When observers look back 50 years from now, the arguments supporting Florida's ban on same-sex marriage, though just as sincerely held, will again seem an obvious pretext for discrimination," Hinkle wrote in his decision. "To paraphrase a civil rights leader from the age when interracial marriage was struck down, the arc of history is long, but it bends toward justice."
Florida Attorney General Pam Bondi has appealed the court ruling, as she did with the other rulings in the counties of Miami-Dade, Monroe, Palm Beach and Broward. Due to the appeal, Hinkle has delayed the effect of his order. Same-sex marriages are not immediately allowed in those districts until the appeals have been ruled upon.
Opponents of gay marriage in Florida, including Bondi and Family Research Council Senior Fellow Chris Gacek, argue that the power of the Florida citizens' votes should be respected by the judicial process.
"The people's voice and vote need to be respected to preserve the rule of law. Judge Hinkle assumes that the marriage debate will disappear - the same wrong conclusion made in 1973 by the judges who imposed abortion on demand," Gacek said. "However, Judge Hinkle can't erase the reality that children need a mom and dad. He also can't wish away the very serious consequences that marriage redefinition has for free speech and religious liberty. Far from live-and-let-live, the redefinition of marriage is forcing people to violate the basic teachings of their faith, or lose their livelihood."
Bondi told NBC Miami that the appeal rulings should wait until the U.S. Supreme Court comes to a decision on this matter. The Supreme Court could decide as early as next year whether state laws recognizing marriage as between one man and one woman are constitutional. Such a decision would give clear precident to the legal implication in Florida.
"The U.S. Supreme Court, they need to decide this case, they are going to decide this case, hopefully sooner than later so we will have finality," Bondi said. "There are good people on both sides of this issue and we need to have finality for everyone involved."
According to USA Today, proponents of same-sex marriage have already won more than 20 legal cases across the nation. The Supreme Court voted in June of 2013, 5-4, to throw out part of a 1996 law that denies federal marital benefits to same-sex couples in states that allow same-sex marriage. Also, they voted to let same-sex marriage resume in California.
The national view of same-sex marriages has sharply changed in the last 10 years and now 19 states and District of Columbia have legalized gay marriage.