Female Lutheran pastor leads church in 'sparkle creed' prayer to 'nonbinary' God, says Christ Jesus had '2 dads'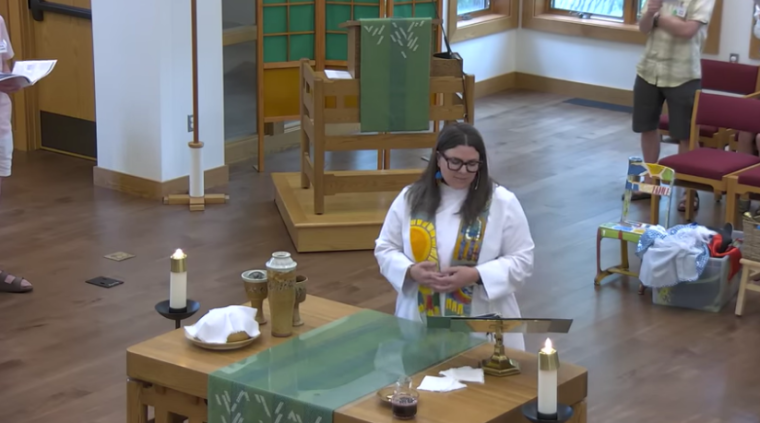 A female Lutheran pastor in Minnesota has gone viral for leading her congregation in a "sparkle creed" prayer in honor of LGBT pride month in which she described God as "nonbinary" and Christ Jesus as having "two dads."
Anna Helgen, co-pastor of Edina Community Lutheran Church (ECLC) in Edina, a suburb of Minneapolis, delivered the prayer during a Sunday service live stream on June 25, when she called on members of the church to stand in honor of the "sparkle creed."
In this prayer, Helgen recited a statement of faith known on social media as the "sparkle creed."
"I believe in the nonbinary God, whose pronouns are plural," Helgen said. "I believe in Jesus Christ, their child, who wore a fabulous tunic, and had two dads and saw everyone as a sibling child of God.
"I believe in the rainbow spirit who shatters our image of one white light and refracts it into a rainbow of gorgeous diversity. I believe in the church of everyday saints, as numerous, creative and resilient as patches on the … quilt, whose feet are grounded in mud and whose eyes gaze at the stars in wonder. I believe in the calling to each of us that love is love is love, so beloved let us love. 
"I believe, glorious God, help my unbelief, Amen."
After the nearly all-white congregation responded "Amen," Helgen then lifted up a prayer "Trusting in God's expansive and inclusive love" for LGBT-"plus" leaders, city officials, first responders, and "for anyone who feels excluded on account of their gender, race, sexual orientation, gender identity, national origin, or any other human distinction."
Helgen also included a reference to pop star Taylor Swift and "her Swifty fans and all music that inspires us."
"Help us 'shake it off' when life takes a turn," she prayed in a nod to Swift's popular hit.
According to the ECLC website, the church is a participant in the Evangelical Lutheran Church in America's "Reconciling In Christ" initiative, which calls for the "welcome, inclusion, celebration, and advocacy for people of all sexual orientations, gender identities, and gender expressions; work for racial equity and commit to anti-racist work and support the national program."
As part of the initiative, churches are asked to acknowledge the "complicit evils of colonialism, and the impact that it has had" on indigenous populations as well as participate in More than Fragility: A Deep Dive into Understanding & Dismantling Whiteness, which is described as "a learning experience designed for white leaders to explore how their identity connects to their capacity to lead and engage in racial justice work."
The initiative also includes a curriculum for children's ministry aimed at "opportunities for engagement of all ages" for pride month, including activity sheets to "honor the fullness of [LGBT-identified] people.
The ECLC website also seemingly implicates Christians at large and churches in general for what it describes as "the theft of native land."
A statement reads in part: "We further confess that Christians and Christian churches have benefited from this land theft. We commit to being active advocates for justice for native people and to truth telling that leads to healing."
A regional body of the ELCA made national news in May 2021 after electing the first openly transgender bishop in the progressive denomination's history.
The Rev. Megan Rohrer, who uses the pronouns of "they" and "them" rather than gender-specific terms, was elected to head the California-based ELCA Sierra Pacific Synod.
Following the move, the theologically conservative blog Exposing the ELCA denounced the election of Rohrer as "a complete slap in the face to God."
"The ELCA is thumbing its nose at God, His Word and Truth and effectively showing that they are part of the uber left and its rejection of Christianity," stated the blog. "How can God-fearing, Bible-believing individuals remain in the ELCA? ​How can churches remain?"
Rohrer was later compelled to resign over allegations of racism and other issues in June 2022.