Fifth-Graders Murder Plot: 10 Year Old Caught With Gun and Knife in School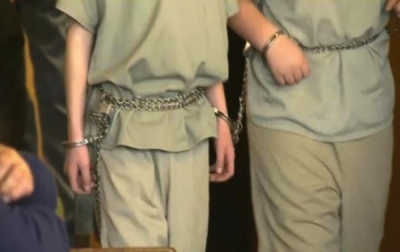 Fifth-graders have been arrested in a murder plot in an incident that has stunned school workers and families in Colville, WA this week. School officials have confirmed that they found a knife and gun in the backpack of one middle school student at the school, and that two students were behind the alleged plot.
They have said the students were planning to kill a female classmate because "she was annoying," and were also hoping to murder a number of other students after her.
Authorities have apprehended two male students aged just 10 and 11, in the shocking incident.
One of the boys allegedly has admitted that he was planning to hurt six other students in the school, because he didn't get along with them. He was, however, planning to first kill a girl he found "annoying."
Timothy Rasmussen, a prosecuting attorney has said, "This was a plan. And it was a plan to kill."
Although no charges have been filed yet, investigators are weighing up whether a charge of Conspiracy to Commit Murder, as well as Tampering with a Witness charges can be issued.
The Tampering with a Witness charge stems from further details that suggest the two boys had planned to pay another student $80 to keep quiet about their murder plot.
The extraordinary arrests come amid a fierce gun debate taking place across the United States, with many calling for tighter gun restrictions to be implemented in the country. However, others have even suggested that teachers should be equipped with handguns, and that if the right people have guns in the school it will act as a deterrent to potential attackers, and also help put an end to school massacres sooner.
The debate has been brought back to the forefront of discussions by the Sandy Hook Elementary School shootings last year, where Adam Lanza allegedly entered the school and fired indiscriminately, using multiple firearms to shoot and kill students and teachers. In that tragedy, one of the worst in American history, 20 first grade children were killed, and six adults.
Here is a video report on the incident: