'Figure of Jesus' Appears Above Colombian City Where 17 Died in Landslide (Video)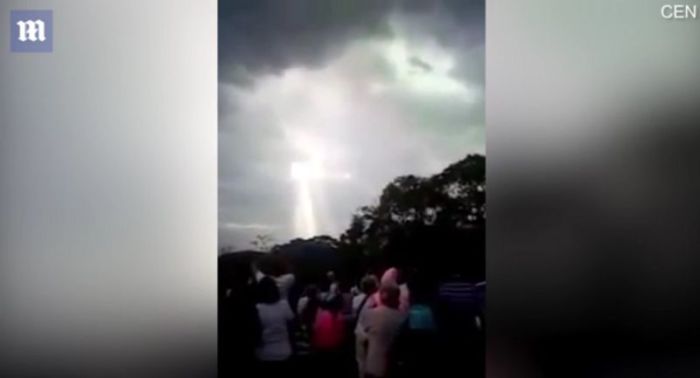 Believers in the Colombian city of Manizales, where 17 people died last week in a landslide, were reportedly left astonished after what some described as the "figure of Jesus" appearing in the form of sunlight streaming through the clouds.
MailOnline reported on Wednesday that one believer, identified as Marya de Iesus, recorded the phenomenon on video, and shared it with people online.
"Jesus Christ was visiting our Colombian town, he calmed down the sky and was listened to," the woman said.
"God blesses us and glory to Lord and Universe King."
The video shows a number of other believers watching the unusual light formation, with one man heard calling out in the background: "Oh, my God, my blessed God, come here to see the misery. Look at this, look at this, blessing God. Glory to the Lord.
He asks: "Do you see the Lord there, standing up?"
Seventeen people were killed in landslides caused by heavy rain there last week, BBC News reported. Mud and rocks destroyed several houses on the steep hills, while running water, gas and electricity were all suspended.
Colombia, which is a predominantly Roman Catholic nation, has been devastated by a number of natural disasters, with 290 people killed and 300 missing in another landslide in the southwestern town of Mocoa earlier in April.
Colombian authorities at the time said they would look into whether building regulations had been enforced.
"This is not about punishment it's about prevention," said national comptroller Edgardo Maya, who ordered the inquiry.
"What good does it do to punish people now, after (so many) deaths?"
President Juan Manuel Santos, who visited Manizales and promised humanitarian aid, said that more people are likely to have died in the latest disaster.
"We are helping to find the disappeared and unfortunately the number will rise," Santos said.
People responding online to the video of the "figure of Jesus" said that the vision is bringing comfort to the suffering.
"In this moment of pain, people want to believe it is a divine item that gives them hope and strength to keep on living and fighting," Sandra Mejia wrote.
Other respondents, however, such as Noe Bazan, argued that people are simply seeing sunlight breaking through the clouds, and nothing more.
"This is a natural phenomenon with the light of the sun through different types of cloud," he suggested.
"It happens in all parts of the world."
Watch the video below: